Get to know Duet Design Group Foundation Executive Director Lezlie Goldberg. We recently caught up with Lezlie about how she came to work on the Foundation, her recent feature in 5280 Magazine, how the pandemic has affected non-profits, and upcoming projects she's excited about. Read on for our full conversation.

For people that don't know you, how did you get involved with Duet Design Group? 
My daughter, Devon Tobin, is one of the founders of Duet Design Group. I came on at the start of the company with Devon, allowing her to use a guest house I had at my home. They designed while I paid the bills, etc. We did that for a year until they outgrew the space and moved to another, larger location.
In your own words, why do you think the Duet Design Group Foundation exists and why do you think it's important?
I believe that there exists a misconception in our society that interior design is only for the rich. We believe that everyone, regardless of their financial means, deserves a comfortable warm environment in which to live and work. Devon is blessed with the innate ability to transform spaces, so being able to provide that service to those in unfortunate situations seemed a logical and meaningful thing to do. Devon is very philanthropic, and, after researching the Denver community, we realized that there wasn't an interior design firm in Denver that was fulfilling that need for the population we were targeting.


You've worked in the non-profit space for about 40 years. What drew you to work for the Duet Design Group Foundation and what have you loved about working for this Foundation specifically? 
My experience in the nonprofit world has been primarily focused on raising dollars for those in need. Although it was very fulfilling, I rarely saw the direct results of those donations. I knew they were helping those in need, but didn't always feel the satisfaction of those people who personally benefited from those dollars. The Duet Design Group Foundation is different, as the designs we provide and the work that we do has an immediate impact on the recipients of the design. We see the joy on their faces and hear about how we have made people feel by improving their living spaces. We transform lives by transforming environments. That, in and of itself, is a very powerful thing.
Does the Foundation focus on any specific types of projects or partner organizations?
Our focus is primarily on youth and families with young children who require a healing environment. However, we would never turn away an organization that addresses the needs of others. For example, in the future we will hopefully be working with an organization that focuses on helping homeless transgender women. Our vision is to assist our non-profit partners to create thoughtful, holistic, and healing environments in order for residents and clients to thrive, grow, and be strengthened.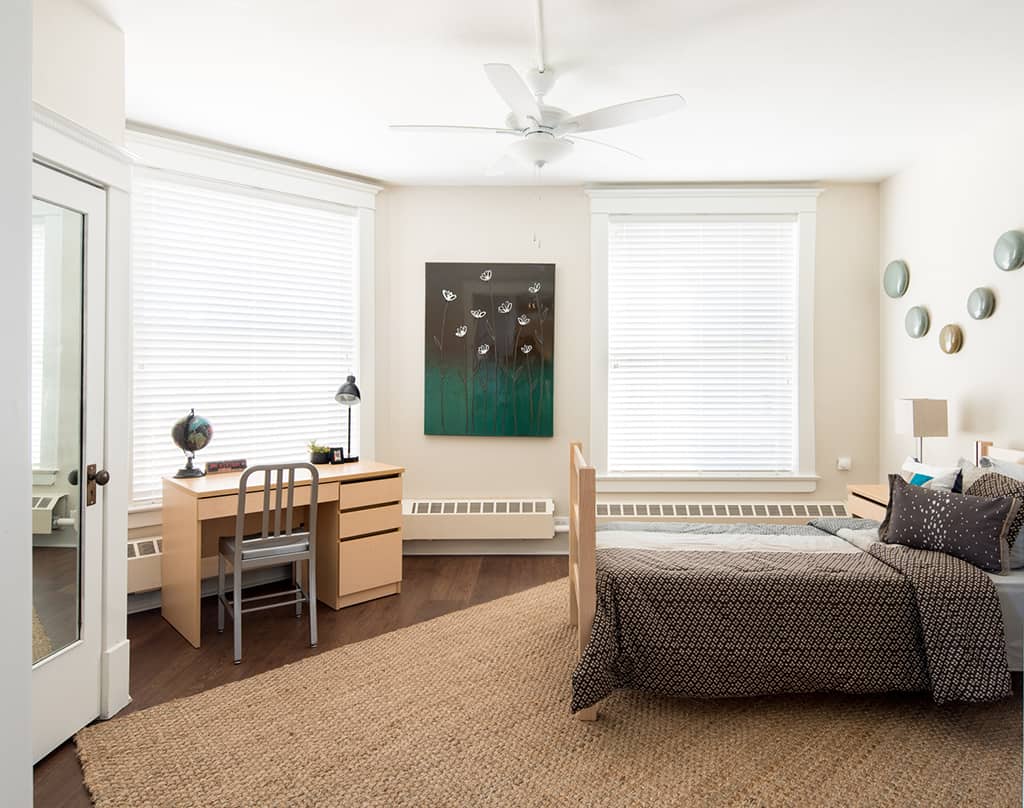 Third Way Center, a 2015 Residential Project by the Duet Design Group Foundation
I was, needless to say, very flattered to be grouped with such a dynamic group of individuals. I was delighted to have had the opportunity to talk a little about what the Duet Design Group Foundation is and what we do. The exposure was enormous. As for a 'brilliant mind,' I chuckled about that. Not sure that I have ever been called that in my lifetime!
COVID-19 has hit the non-profit space especially hard. What are some of the challenges you've seen non-profits facing this year?
The non-profit world has indeed been hit hard by COVID-19 and are struggling with how to adjust to it. Most of the organizations that the Foundation has been involved with are just trying to keep their heads above water, and attempting to create better environments just doesn't feel like a priority in these difficult times. With social distancing, many non-profits are having employees work from home, so working in their spaces isn't even a possibility. Any funds they might be raising now are being allocated to urgent needs of their population.
Despite the challenges posed by the pandemic, what do you hope is next for the Foundation? What projects or initiatives are you excited about for 2020 and looking ahead into 2021?
We are about to implement the design we created for the Common Space at Brent's Place Founders House. Originally designed 10 years ago, this space now requires a major facelift to serve the needs of its residents. There are also a couple other renovation projects in the works for us at Brent's Place that are still on the drawing board. This partnership will potentially be our focus during the remainder of 2020 and much of 2021. We also are prepared to take on a couple smaller projects with non-profits whose scope of services are on a smaller scale. In addition, I am constantly meeting with heads of nonprofits who have potential projects for us when life returns to 'normal.'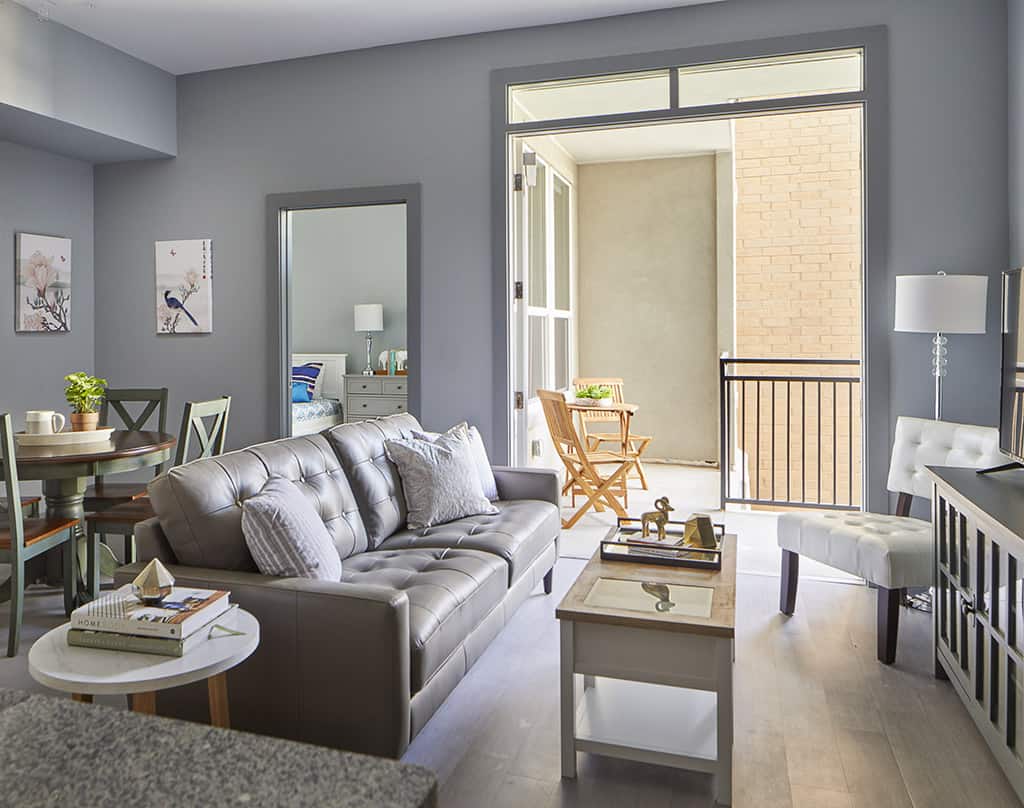 Living Room from our 2015 Brent's Place Project: The Forum, Fitzsimons Apartments
What's been one of your favorite moments working for the Foundation so far?
We worked with the Caruso Family Charities to design and install furnishings for a mobile home given to a family with a very sick child who had lived at Brent's Place for more than 2000 days. Within 30 days, prior to Christmas 2019, we were able to give them a home that they never dreamed of having. Thanks to the help of a team member's daughter's soccer team, the family received a Christmas tree with gifts for not only the sick child, but the mother and two other children. The father had been deported back to Mexico, so with the mother needing full time to take care of her sick child, the older son became the sole breadwinner for the family. After working tirelessly for days, the day arrived when the family saw their new home. There wasn't a dry eye in the home as they walked through the spaces with Jerry Caruso, admiring and smiling at each turn. Sadly, the young child died a few months later. However, the joy and happiness that we brought to that family at that moment in time is a priceless memory for me.
What do you enjoy doing when you're not "shaping the way Denverites live" through your work on the Foundation?
I am now enjoying 'semi-retirement,' although full retirement seems unlikely given my passion for giving back. I never want to stop working and always want to remain relevant. My children and grandchildren are my blessings, and spending time with them fills my heart with joy. I love playing golf these days, getting together with friends, staying fit by working out at least a couple days a week, and playing games online, such as canasta. I have taken a few road trips this summer and have discovered the world of Audible Books! Seeing the countryside through driving has allowed me to fully take in the amazing landscape of our beautiful country. We all have to stay busy and positive, as our world is unlike anything any of us have experienced during our lifetime.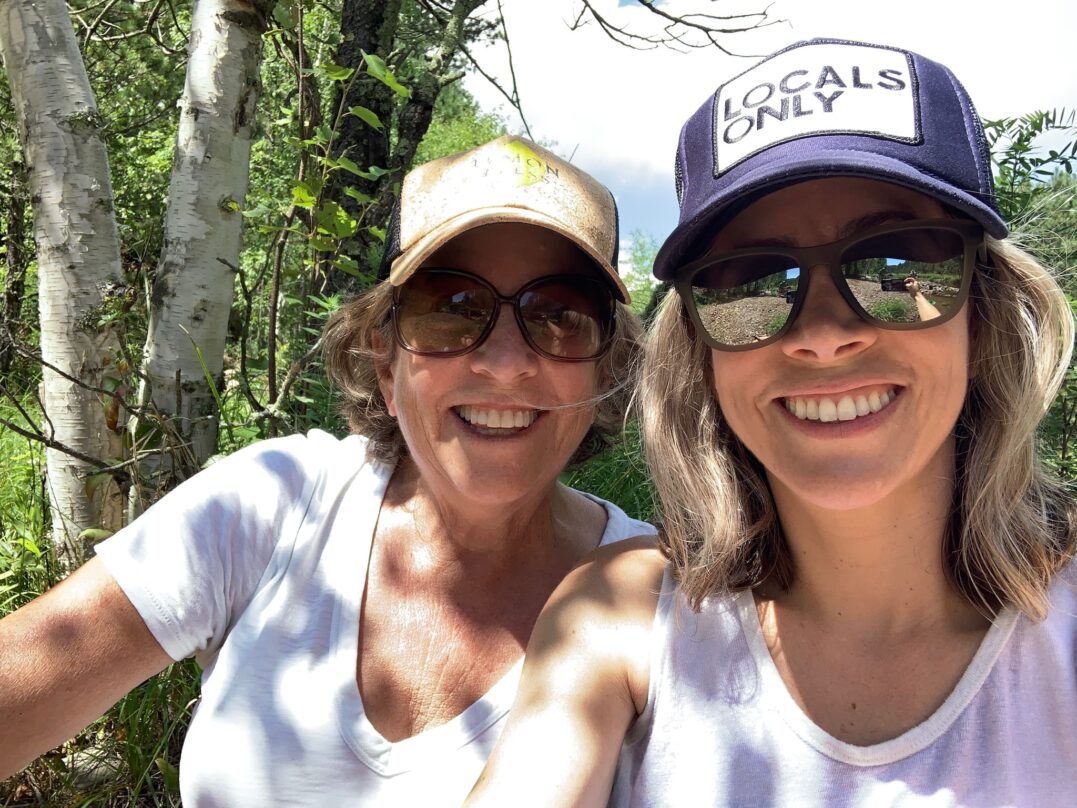 Lezlie with daughter Devon Tobin on a recent camping trip
=======================
Do you know of a non-profit who would benefit from the services of the Duet Design Group Foundation? We are looking to partner with non-profits working with youth, adults, and families to overcome unexpected life challenges such as trauma, mental or physical illness, substance misuse, or loss of a stable living environment. We donate interior design services to create healing environments in which they can thrive.
Reach out to lezlie@duetdesigngroup.com with partnership nominations, to donate or learn more.