Meet Karleen deVilla-Mohr, Designer for Inside Stories by Duet Design Group
We sat down with Designer Karleen deVilla-Mohr to talk interior design styles, favorite projects, and what it's like designing for our affiliate company, Inside Stories by Duet Design Group. Get to know Karleen, learn about Inside Stories, and start a project with the Inside Stories team today.

Tell us a little about your background and why you decided to become an interior designer.
I actually went to CU for a Business Admin/Marketing degree. But after graduating and working for a commercial property management office back in Chicago, I quickly realized marketing was more stats/sales, and I wanted something more creative. At the time, my cousin was in interior design school, and I became really interested in her work! At the property management office, we oversaw some Tenant Improvements, so I was exposed to some commercial design. It was fine, but I didn't find it as pretty or interesting as my cousin's residential projects. So, I took the leap and went back to school for another degree at Harrington College of Design.
Over the next 10+ years I worked for two high-end residential design firms, first as an assistant/librarian/runner and Project Manager and then as a Senior Designer/Furnishings Lead. I only left to move back to Denver when my husband got a new job that took us west! When first back in Colorado, I worked for a multi-family design firm. It was great exposure to a different world, because the projects – dorms, condo lobbies, amenity spaces, and some unit finishes – were residential but with a commercial aspect. Then an opportunity to get back into high-end residential arose when I saw a posting for a position at Duet Design Group. They brought me on board as a Senior Designer, and I worked directly under Miranda Cullen for a year and half before there was an opening at their sister-firm, Inside Stories by Duet Design Group. They asked if I would be interested in trying something new, perhaps flexing my creative muscles in a different way, more independently than I ever had before. It was exciting and daunting, but I took the leap and am so happy for all that it has taught me and continues to! Growing with this team, even at this point in my career, is pretty darn amazing.
What are some of your key design philosophies?
Proper Scale, Function, and Layering are so important to make rooms/spaces feel well thought-out and comfortable. If everything is brand new and from one store, it feels static and very commercial. It also feels like you walked into said store and bought the room vignette that they set up. Not everything has to be matchy-matchy. In fact, I prefer to mix finishes and bring in vintage pieces, if possible. Having pieces in a room that reflect the client's personalities is also key to making it feel like a home and less like a staged room.
What would you say are some of your strengths as a designer?
Since I have been in the industry for a while, I have accumulated a pretty good list of resources across a variety of price points and genres. Because of that, I also am quite flexible to different styles and tastes. I will let a client know if I feel strongly that a certain style, design, or scale doesn't fit, but at the same time, I'll show them something that is more appropriate. I sometimes take risks and try to push clients out of their comfort zones, but always with a reason for doing so. That's why people seek us out, right? To re-imagine their spaces! I am also pretty social and energetic, so I can relate to all kinds of people and lifestyles. For example – even though I don't have kids of my own, when I worked as a nanny many moons ago, I still learned what happens in homes raising littles. They have all the toys and all the things, and we need to find a way to organize and corral!
What are some of your pet peeves as a designer?
As stated above, it's the one-stop-shop. It just makes for flat rooms. Also, furniture that is not the right scale for the spaces. I can't fault the general public for not understanding these things, but you really do need to know the size of your room and the pieces that will fit to make it function well. (And to not feel like you've jammed the biggest, comfiest sofa and oversized reclining chairs into the space because it's where the family will gather to sack out in front of the tube – ha!) You can still get very comfortable and functional furniture into a room to watch TV, but maybe it's not all lined up against the walls and is a little bit more tailored in style, too.
Where do you look for inspiration? Are there any recent examples of things that have inspired your work?
I often find inspiration through design magazines, but also online via Pinterest, Houzz and Chairish (formerly Dering Hall's look-books). Lately, collaborating with the Inside Stories team in the office also brings about so much inspiration – their perspectives are refreshing, especially since we all have such different styles, tastes and backgrounds. Most recently, I found images on Pinterest to help bring a staircase from 40 year old Evergreen, Colorado house into the 21st century!



Staircase Before and After on Karleen's Evergreen, Colorado Project
What are 3 of your favorite projects you've worked on and why?
Family Lake House in Michigan

– It was a rustic, dated cabin in the woods, and we expanded the footprint, white-washed the paneling, and re-imagined some antiques and family pieces into a fresh new space for the young family that inherited the grand property. (2012)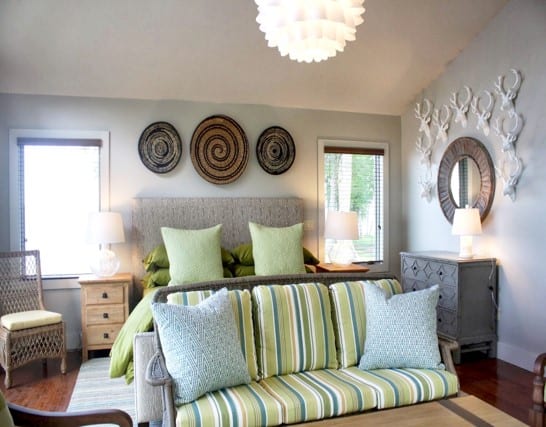 Michigan Lake House Bedroom
WHITEWATER LANE Project

– I loved this modern family home in Steamboat Springs, Colorado. I worked on the project with Principal Miranda Cullen and the team. It was a builder-spec house that we added custom touches to and fully furnished (

Duet Design Group

–

Whitewater Lane 2019

).

WHITEWATER LANE Living Room
BALBOA MIST Project

– For this duplex renovation in Polo Club North (Cherry Creek area), the client wanted to blow out walls and make a space that was not only wheelchair accessible, but also super luxe and comfortable for her family and grandkids. (Inside Stories, 2020)

Before and After for the BALBOA MIST Living Room
What are some things you like about being a Designer with Inside Stories?
So many things!
First, collaboration with a great team of designers! Seriously, we are all SO different, yet we help each other out as often as needed, push each other, and also provide lots of feedback and opinions (never short of those, even when we don't agree!)
Second, we have many, many resources to help us provide the best experiences and spaces for our clients. This includes both support from a General Manager, who keeps us functioning smoothly and efficiently, and ongoing inspiration and support from the Duet Design Group team as well.
Last, but certainly not least, I enjoy the flexibility and autonomy. The ability for us to design on our own schedules is pretty great. I have crazy training schedules for my outside-of-work life, so it helps to be able to work from home or shift schedules to balance it all.
What do you enjoy doing when you're not designing?
I am a pretty social person, so I enjoy hanging out with my husband, friends, and all the dogs – whether on a rooftop, in a park, or out at a restaurant or bar. I am also an endurance athlete; triathlons are my thing. I have raced up to 140.6 miles in one day! It's a crazy lifestyle, but the long workouts with my team keep me physically fit and keep challenging me in other ways. It balances the stress of life and gets me outside, exploring this great state on foot or on bike. It's exhausting but so good for the soul.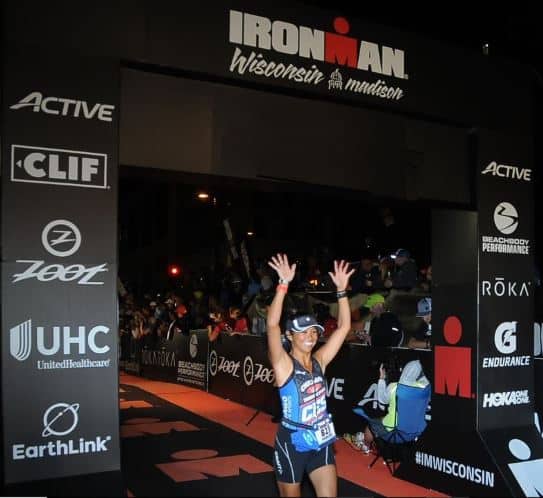 Karleen finishing the 2016 Full Ironman in Madison, Wisconsin.