Through the looking glass
You just moved into your new home, took your time putting each and every room together. You chose the couch, the rug, the light fixture, the accent pillows. So why does it still feel unfinished? As the sun hits your eyes, so does the realization that you forgot about window treatments. Window treatments are normally an afterthought to homeowners, but designers know the true importance and complexity behind these fabric tresses. Take our hand as we walk you through the importance of draperies, details to remember, and what style is right for you, and your space.
There are many things to consider when deciding how to dress your window, and these decisions should not be made lightly. This can be one of the most expensive investments you will make in your home. Reason being, if you go the custom route, you are most likely going to be using an almost unfathomable quantity of fabricated yardage. For example, in a great room with 16 feet of windows, you may need anywhere between 20-30 yards of fabric. If each yard is $80-$150 per yard, you could be spending anywhere between $1,600 – $4,500, and that is just on fabric. Each treatment will also need the appropriate drapery hardware, as well as fabrication and installation. We know your head might be spinning, but take a deep breath and bear with us.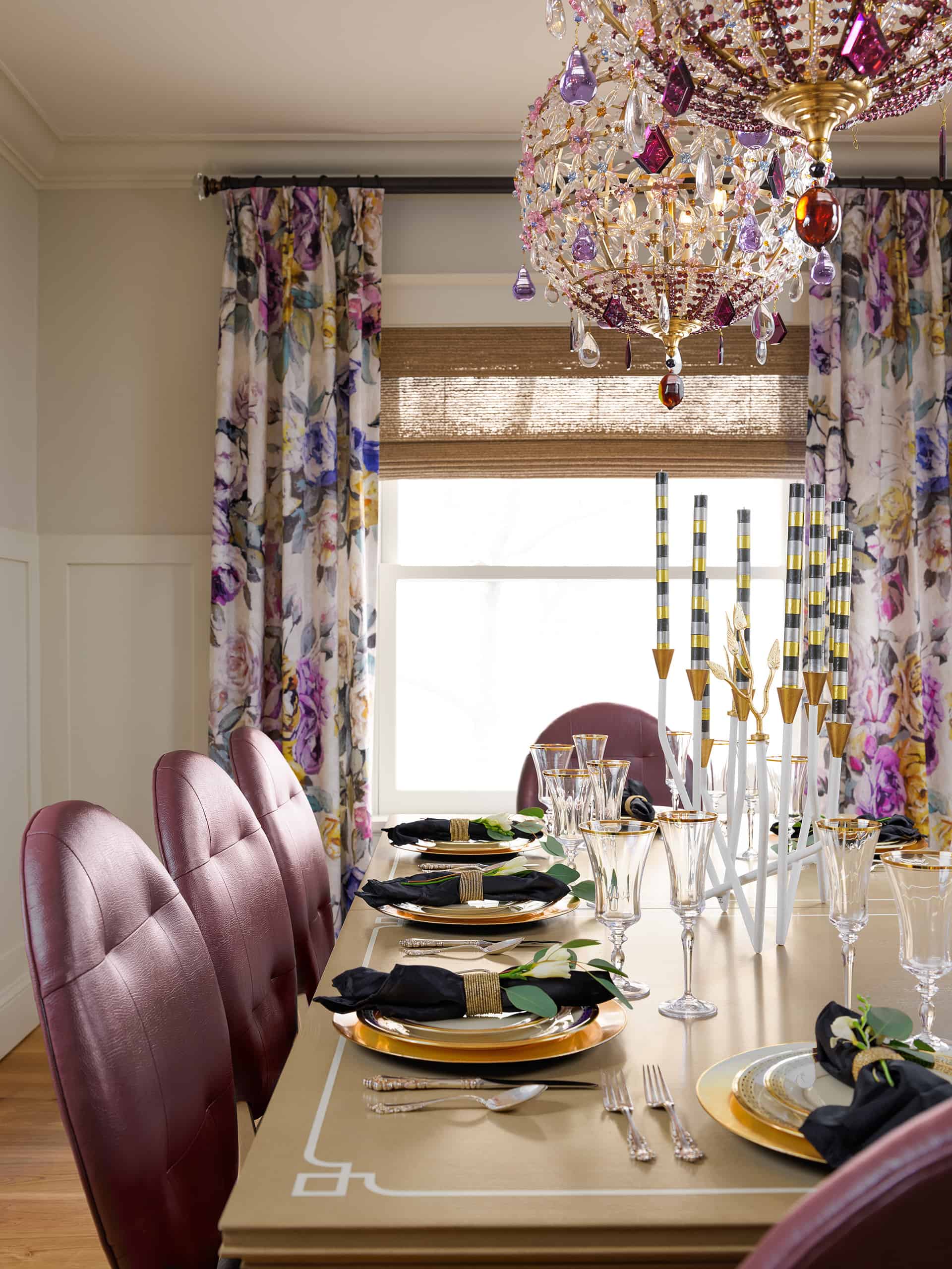 Which windows?
Not every window may need to be treated. A skilled designer will first assess the space, often leaning into the intended architectural integrity of the space. What was the architect's reason for the space, and specifically the location of the windows? If we add window treatments, are we taking away from, or enhancing the space? If the room IS the view and furthermore, the windows that frame it, you may want to forgo anything that would obstruct that. However, if you have a dining space, for instance, towards the front of the house, opting for functioning draperies or roman shades to avoid overexposure when entertaining at night, is a must. Be selective in application and location when starting the process. One should consider them both a critical function of a room, as well as a design enhancement.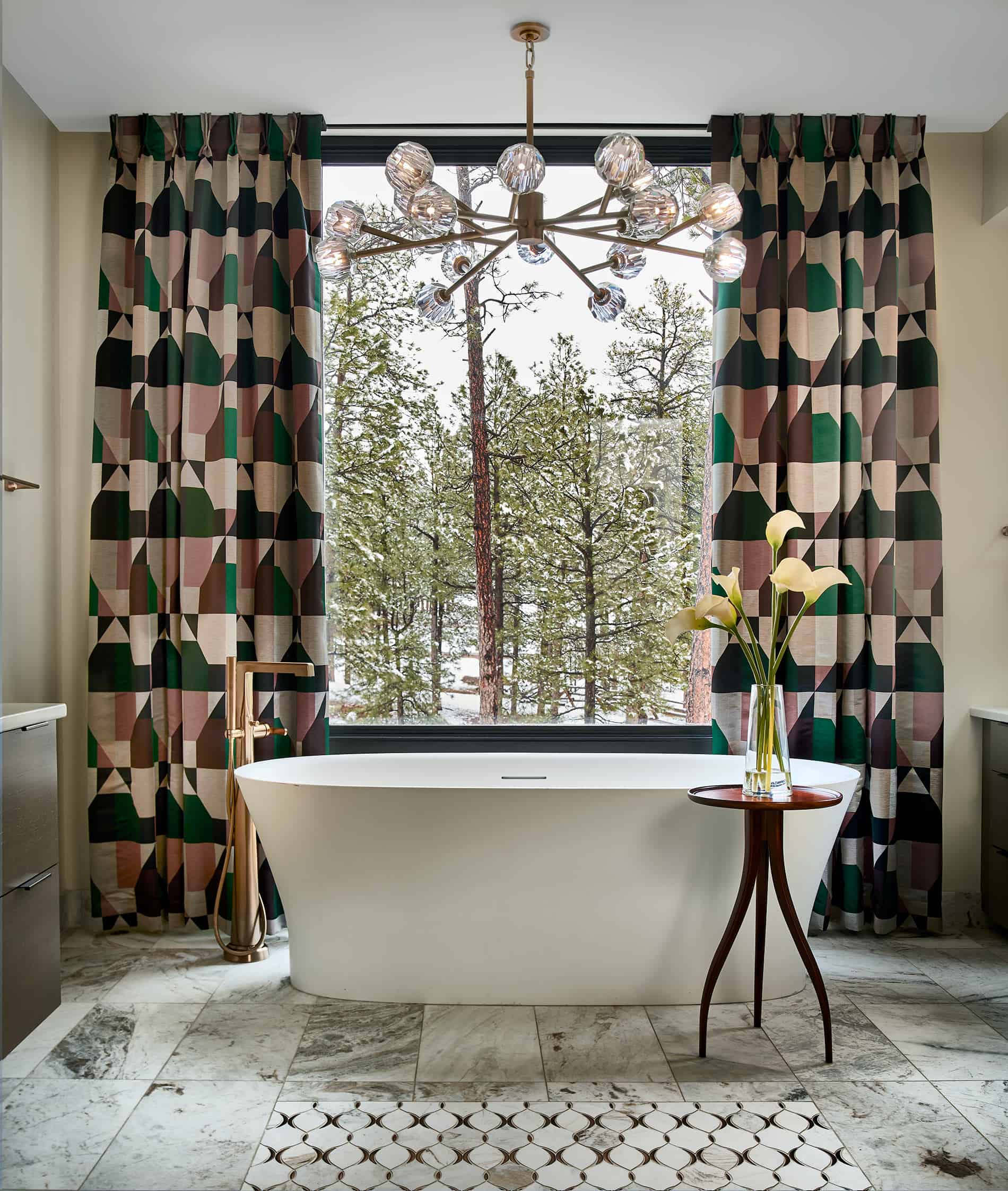 What's your type
Functioning Drapery Panels: If purpose is your main concern, you may choose to add "functioning drapery panels". This indicates that the drapes can be fully operational via a traversing rod or a wand at the top. The key word is "functioning".
Stationary Drapery Panels: If you choose to go for something with less width and non-functioning, those would be deemed "stationary drapery panels". They are used for a variety of reasons; such as to enhance the height of the room, or as an opportunity to add pattern or color into a room, which would otherwise be noticeably absent. Many times, we will use stationary panels to bring in what we call a "bridge fabric". If you have a space infused with a variety of oranges, teals, lavenders, and grey tones, the "bridge fabric" can unify all of these into a successful composition.
Roman Shades: Roman shades are made with a fabric. It is important to remember that the fabric will lie flatter than it would in a drapery, therefore the print on the fabric will be more noticeable if one exists.
Woven Shades: Woven shades follow the same application as Roman shades, but they provide the added element of texture to a space. These are usually fabricated with a natural fiber material such as bamboo or grasscloth, which add a warm sophistication to the room.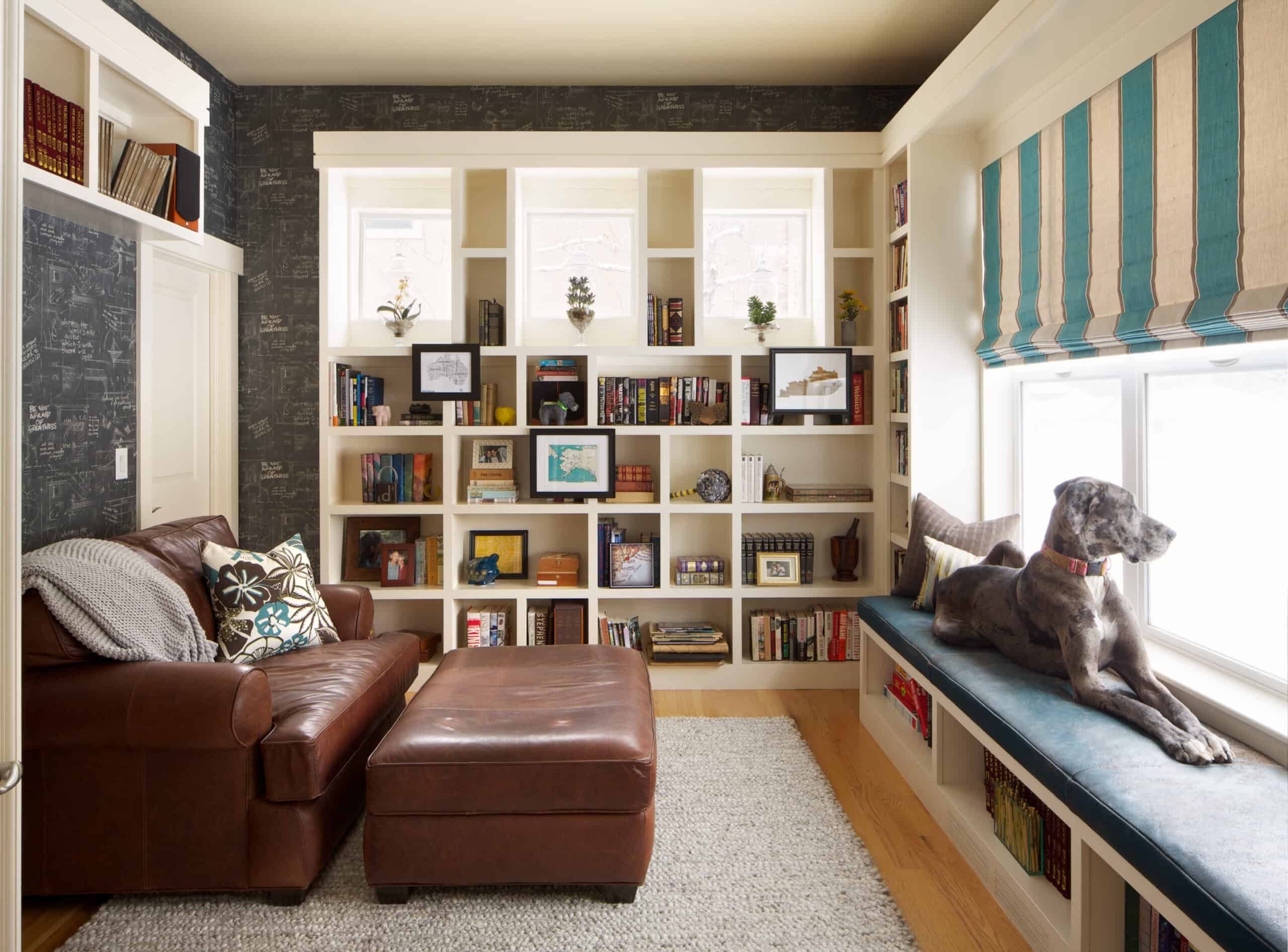 Fabrics
Once you have selected which style is right for you, you can see your vision come to life with the selection of fabric. While reviewing the variety of color and pattern can be exciting, this is also where many costly mistakes can occur if not implemented properly. One must be thoughtful about which fabric is selected for each fabrication. Regardless of which style you move forward with, the fabric will never lay entirely flat. Therefore, if the fabric is not appropriate for a window treatment, it will not perform correctly. It may flare at the bottom because it cannot hold its structure, or it will not pleat properly at the top.
Sheers are a great option because they take the shape of the window treatment effortlessly. Their only shortcoming is they do not break the light effectively and get sun-beaten. For this reason, sheers are generally used more for decoration.
On the flip side, you can opt for blackout draperies or blinds. The term "blackout" refers to the lining. Any treatment can have a blackout lining added. This application is most frequently applied in bedrooms or spaces where there will be movie watching.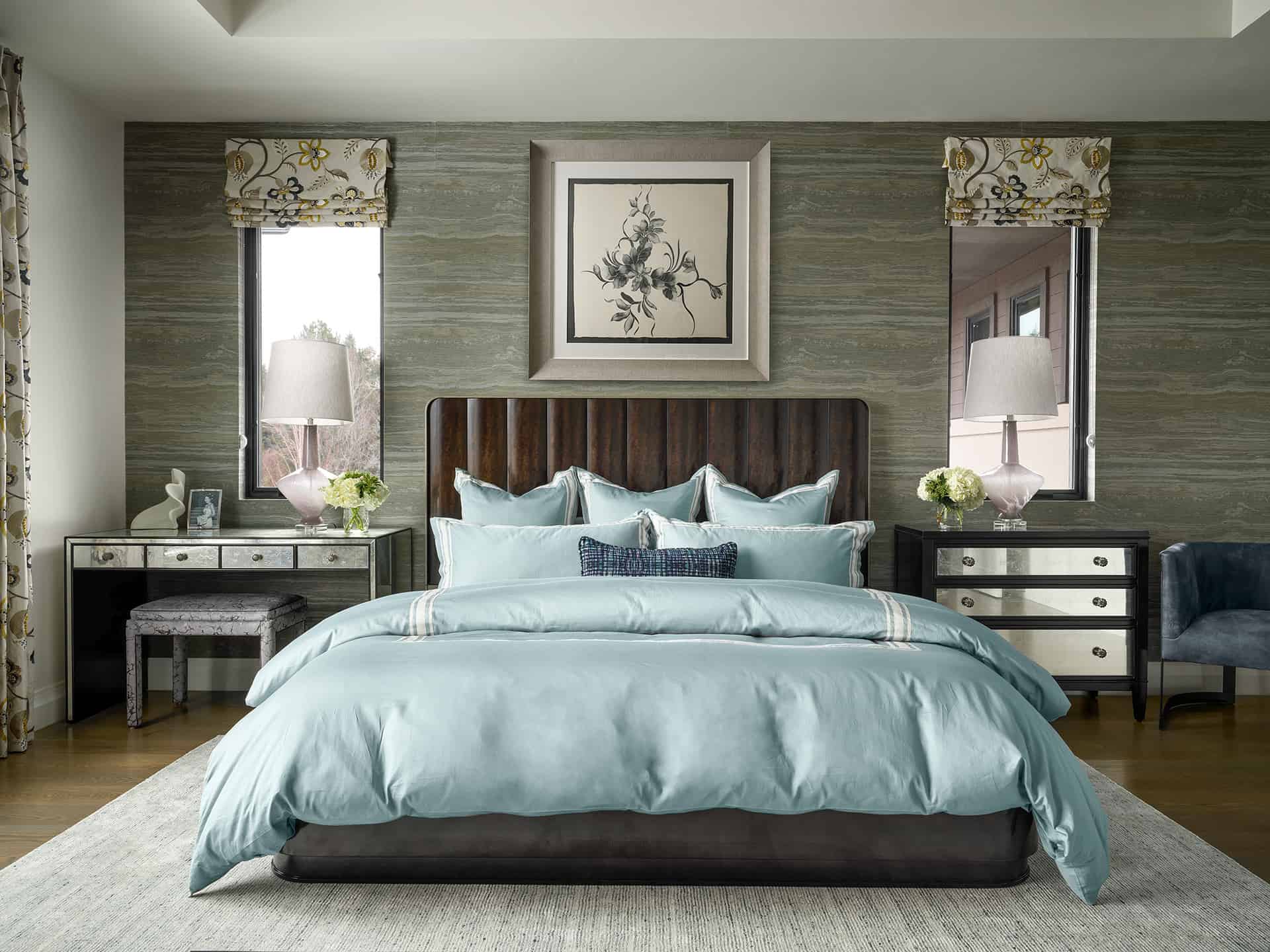 Going to great lengths
The length is dependent on the height of the room, and where the draperies will be mounted. We measure from where the rod hangs to the break of the floor. We often avoid having the fabric touch the ground, or more commonly referred to as "puddling". Sometimes we will design the drapes to "puddle" but that is a specialized look.
Hardware
One should consider hardware as the window treatment's jewelry. When selecting the rod, we consider mounting location and material. One can select from options such as ceiling mounted, wall mounted, and rods that are metal, wood, ornate or plain. The list goes on! Hardware can seem daunting, but it is the small details that allow one to further appreciate the end result.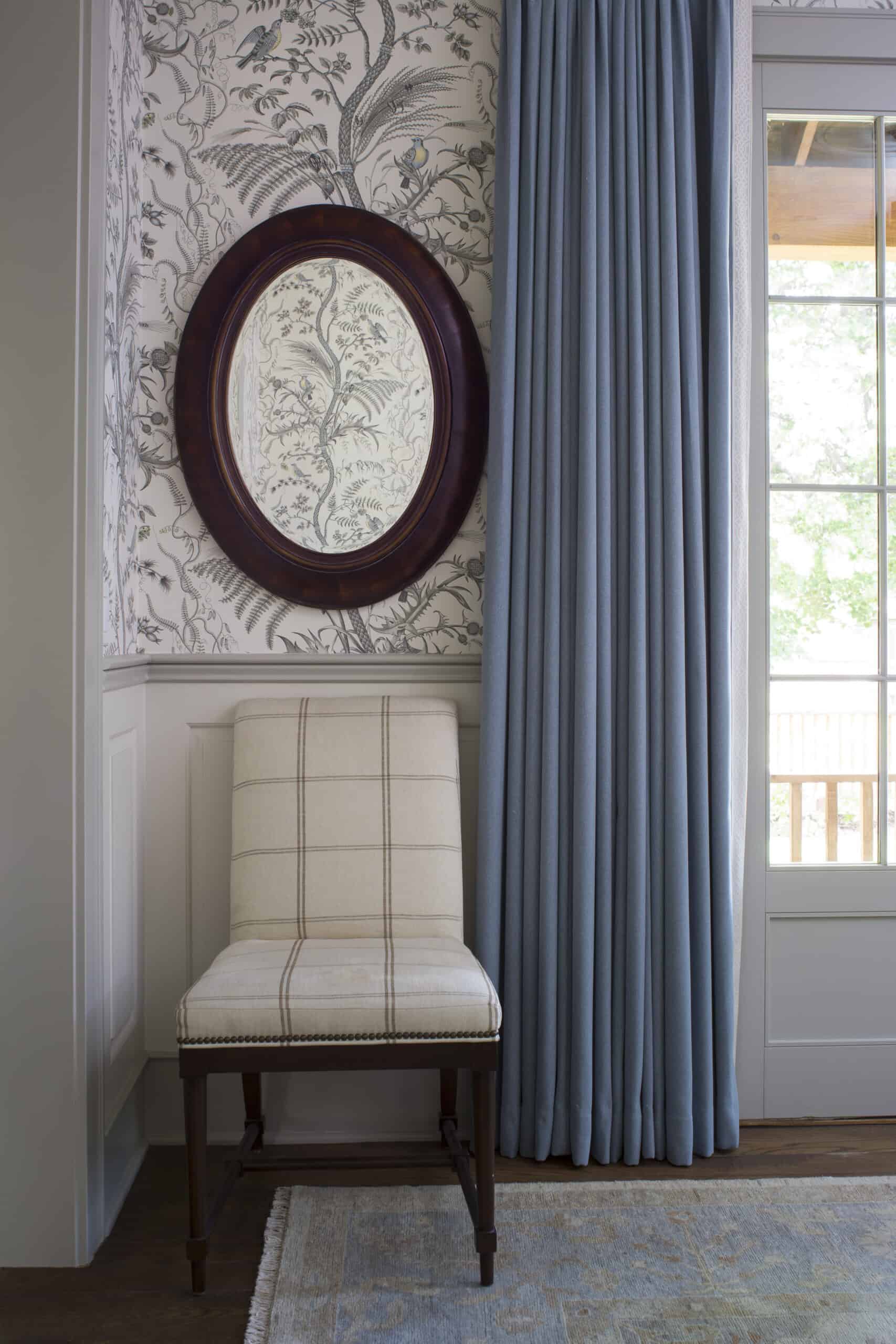 We know all too well the thought that goes into making these momentous decisions. We have set the standard in our firm to speak to the process clearly and effectively. The importance of the ability to speak to it rests on the fact that we want this large investment to be one our clients can appreciate every day. The next time you see a thoughtful window treatment, you will know how much time and consideration went into making that a moment to be admired.
Photos contained within blog are not necessarily Duet Design Group projects.