Meet Lauren Winter, Designer for Inside Stories by Duet Design Group
We sat down with Designer Lauren Winter to talk design styles, favorite projects, and what it's like designing for our affiliate company, Inside Stories by Duet Design Group. Get to know Lauren, learn about Inside Stories, and start a project with the Inside Stories team today.

TELL US A LITTLE ABOUT YOUR BACKGROUND AND WHY YOU DECIDED TO BECOME AN INTERIOR DESIGNER.
I've always had a passion for it. When I was young, a family friend took me to a bookstore and told me I could pick any book I wanted. I selected "1001 All Time Best Selling Home Plans," a collection of residential home layouts. I poured over that book for weeks, looking at the different spaces and ways to configure rooms. It's incredibly rewarding to be able to help people not only to see the potential in a space, but also to re-envision a room and make it better fit their style and lifestyle!
What are some of your key design philosophies?
Design doesn't have to be serious! Pinterest and Instagram are wonderful tools, but they can also give people an unrealistic expectation of the perfect house. The reality is that we need to live in them, and they have to be functional. When it comes to design, I try to have a more playful approach, so when a certain piece doesn't end up in the exact location we intended, that's ok.
What would you say are some of your strengths as a designer?
I love to spaceplan. Coming up with creative ways to rethink the way a house was designed and find extra space in little nooks is so fun! I would also say communication is a key element to a successful design, and I try hard to make sure clients feel comfortable reaching out to me if they have questions or feedback. Not every client is good at dictating what their style is, so it's up to us as designers to try to pull that information out of them.
What are some of your pet peeves as a designer?
Barn Doors and shiplap! I'm ready for something new and different that not everyone has.
Where do you look for inspiration? Are there any recent examples of things that have inspired your work?
Magazines, Instagram, Pinterest.
90% of our clients love the color blue, and want it incorporated into their house. Because everyone wants it, I'm always looking for inspiration on different ways to work it in without making spaces feel the same. Andrew Howard Interior Design recently posted a project that was inspiring how it blended different shades of the same color, and that tonal trim detail is amazing!

Credit: Andrew Howard Interior Design

We also do a ton of millwork drawings for clients who want to revamp fireplaces or add bookshelves (especially now with all of the home offices!) So I'm constantly on the hunt for interesting millwork details or storage ideas, and recently came across this unique idea for a guest bedroom in House Beautiful's June/July edition. The room was too small to fit a true guest bed, so she elected for bunks.  She also removed the closet door and built it out to accommodate better storage. It's a funky space, but perfect for guests who aren't staying forever!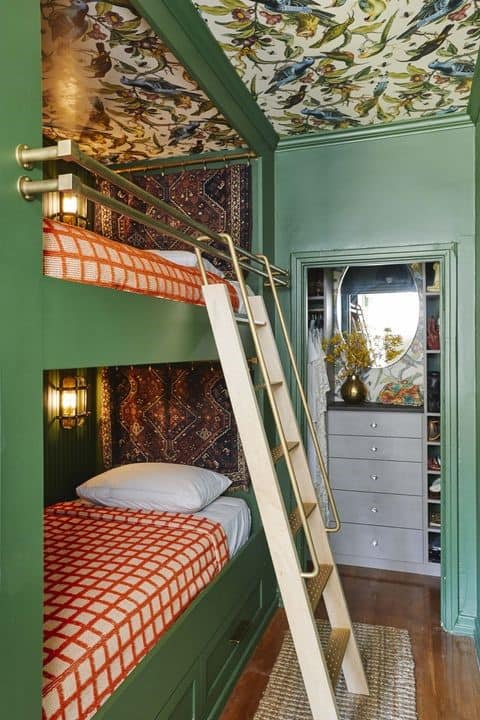 Credit: Designer Dee Murphy
What are 3 of your favorite projects you've worked on and why?
MIDNIGHT Project: These clients loved pattern, texture, and color and were open to layering in all of them! We had a lot of fun with wallpaper in various rooms to give some impact! (2019, Denver, Colorado, Residence)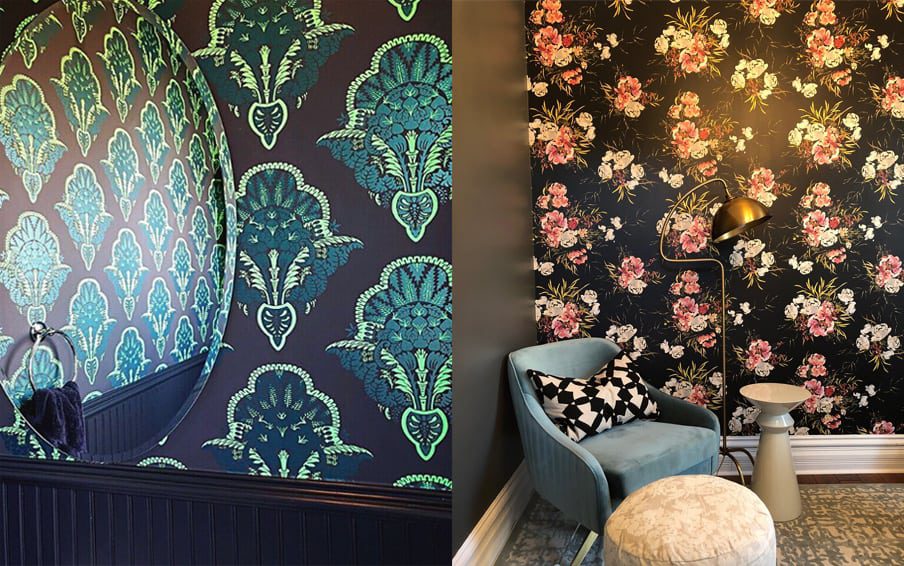 Left Image: Walltawk
STEAM Project: This space was the historic Wellshire Park Cottage that was built in 1926. It had been used as an office space and the client wanted to give it a complete overhaul. We added modern elements, while keeping the historic details intact, and it underwent a huge transformation! (2018/2019, Denver, Colorado, Commercial Office)

JET Project: This client wanted a black kitchen (so fun!), which was out of the box of what we typically do. They had a vaulted ceiling in the kitchen on the range wall, so we selected a unique pattern for the backsplash and wrapped the range hood that extended to the ceiling in wood to warm it up. This is under construction now—so stay tuned for photos! (2020, Englewood, Colorado, Residence)
What are some things you like about being a Designer with Inside Stories?
I love that the projects we work on from a day-to-day basis are so vastly different. Recently I've worked on an automobile repair shop lobby, a modern mountain home, a full home space plan re-work, and a few projects that just needed a refresh in some rooms. The variety of the projects and services make the job interesting, and we're always learning something new!
What do you enjoy doing when you're not designing?
I love to cook and do anything outside—running, hiking, gardening. The fresh air rejuvenates me! I have a little one and a pup, so we're constantly trying to get the family outside to do something fun.