Meet Inside Stories Designer Lisa Oleynik
We sat down with Denver Designer Lisa Oleynik to talk interior design styles, favorite projects, and what it's like designing for Duet Design Group's affiliate company, Inside Stories by Duet Design Group. Get to know Lisa, learn about Inside Stories, and start a project with the Inside Stories team today.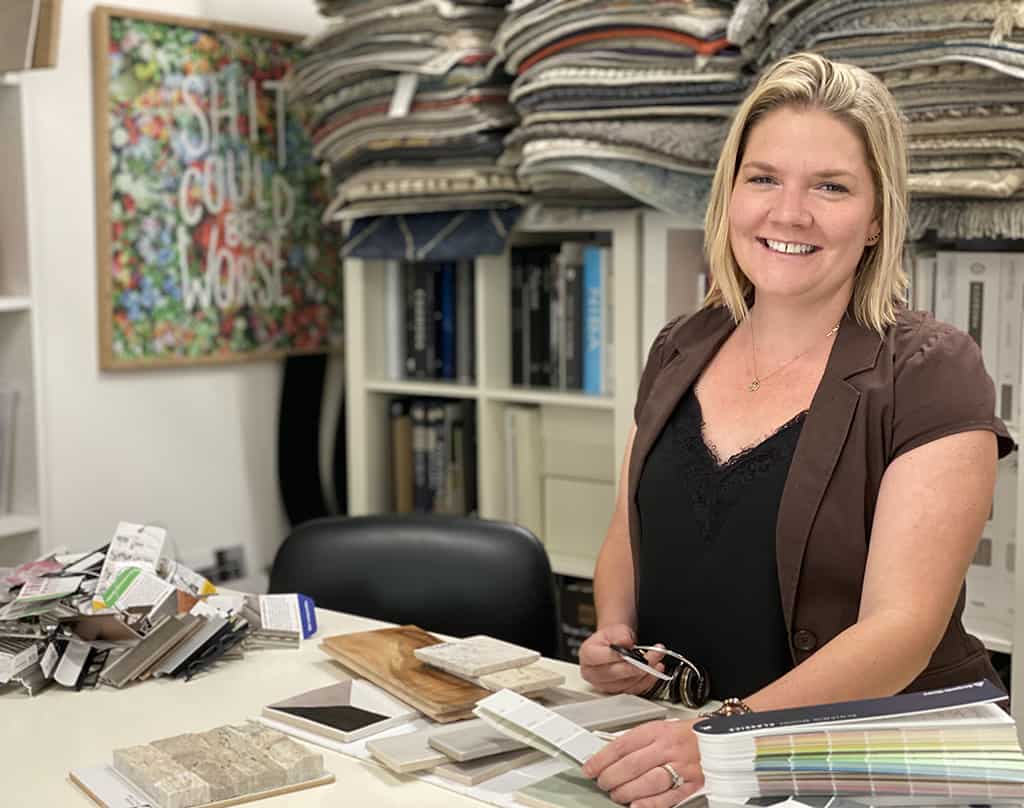 Tell us a little about your background and why you decided to become an interior designer.
My Dad was a custom home builder, so from a very young age I was tagging along on all of his projects and playing "designer." I graduated from the Interior Design program at Colorado State University and have been in the design and construction field ever since. Early in my career I became especially interested in historic preservation and sustainable design. I am LEED accredited, which is a credential for knowledge in sustainable design and construction; I try to implement sustainable principles whenever possible. I became a designer to feed my creative passion, but it's the impact design has, on clients and the community, that keeps me thriving.
What are some of your key design philosophies?
Great design should make you feel good and simplify life, without you even realizing it. Think of your favorite pen, chair, etc. – it's likely your favorite because it's designed well. I think spaces are very much the same.
Interior design should be personal and reflect who you are; subtle details will help tell your story. This can be a bit intimidating for someone who doesn't even know their style, but that's where a professional designer comes in!
What would you say are some of your strengths as a designer?
Communication and personal connection. I enjoy learning about the client so I can implement a design to reflect their personal style and help tell their story.
Space planning and millwork details are also two things I'd do all day.
What are some of your pet peeves as a designer?
1. "Live, Love, Laugh" wall stickers and decals (and the like).  And 2. Bad lighting.
Where do you look for inspiration? Are there any recent examples of things that have inspired your work?
I mostly go to Instagram and Pinterest when I'm looking for inspiration. It's actually also a hobby of mine to browse Airbnb listings and various realtor websites – no shortage of inspiration there! However, like most creative beings, I'm constantly taking snapshots (either mental or physical) in my day-to-day life. These snapshots may be from nature, a neighborhood stroll, or even TV sets from shows I watch late at night.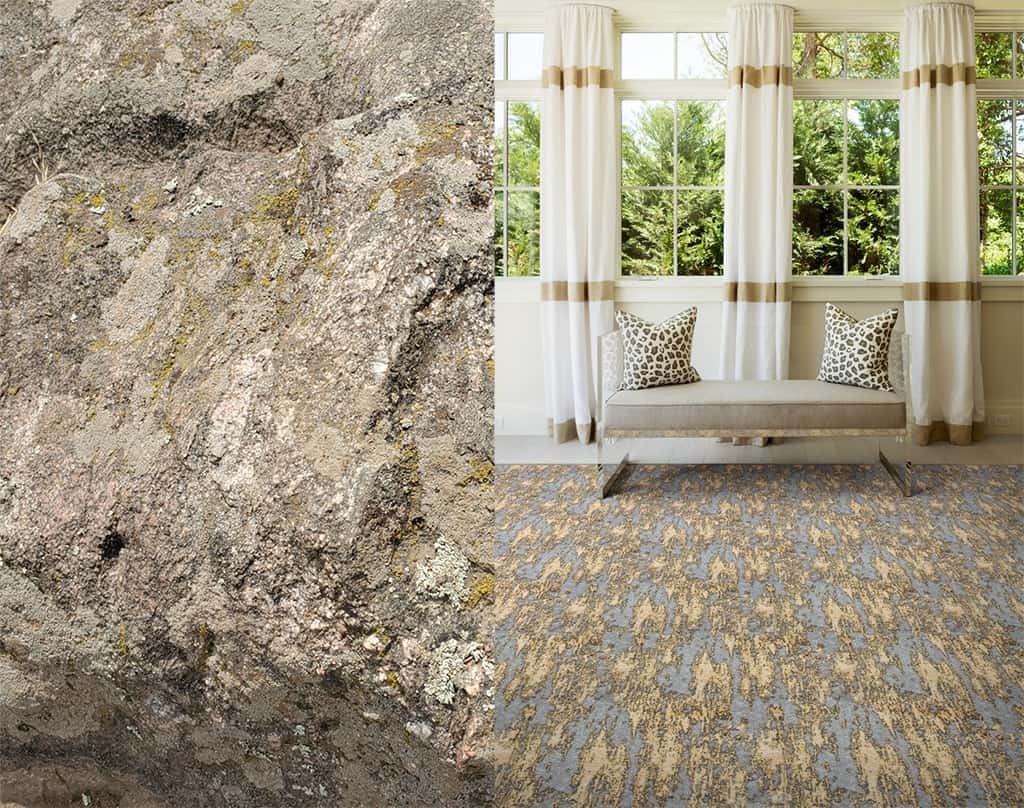 Nature Inspiration – This moss covered boulder on a recent hike inspired the texture and color of this rug from a recent install.
Most recently I've been double tapping everything @katepearcevintage and @ebth (Everything But the House) have been posting on Instagram. Both pages are eclectic, vintage and fun, and they remind me to keep it a bit funky when designing! 
What are 3 of your favorite projects you've worked on and why?
Reunion Coffee House, Commerce City, CO – 2018
I really loved how this space came together given the many design challenges (it was an abandoned building constructed from three, 40-foot trailers). The client wanted the space to be a welcome center for the neighborhood community and a 'go-to spot' offering coffee by day and wine, beer, and live music by night. The programming was complex, but I knew it was a success on my first visit after completion while sharing the space with the end users. That can be most gratifying – getting to experience the final space yourself is really an advantage to working on hospitality projects.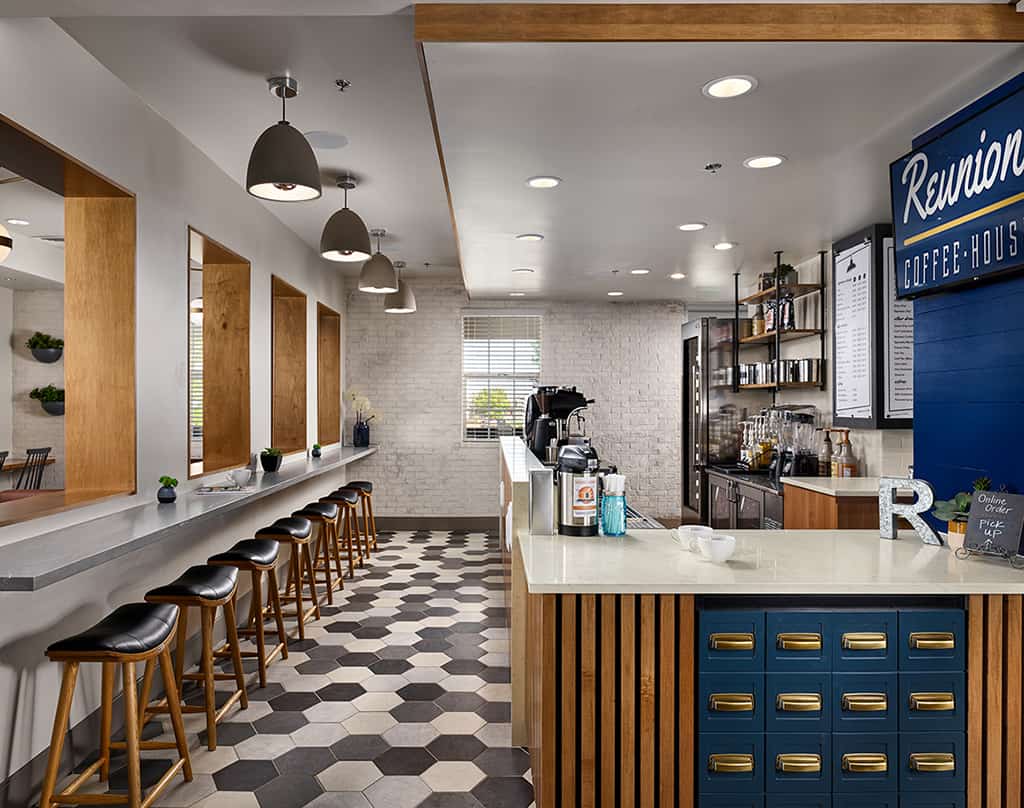 In 2011, a 5.8 magnitude earthquake caused damage to the historic Main Hall ceiling at D.C.'s Union Station. I was part of the team that managed the restoration project, which included a complex rolling scaffold system to access the grand space, structural repairs, cosmetic repairs to the plaster, and re-gilding the coffers with 23k gold leaf. It was an incredibly collaborative effort that took place over the course of 5 years, all while keeping the 24-hour facility fully operational. The building will always hold a special place in my heart, and I feel so humbled to have been part of such a rich piece of history.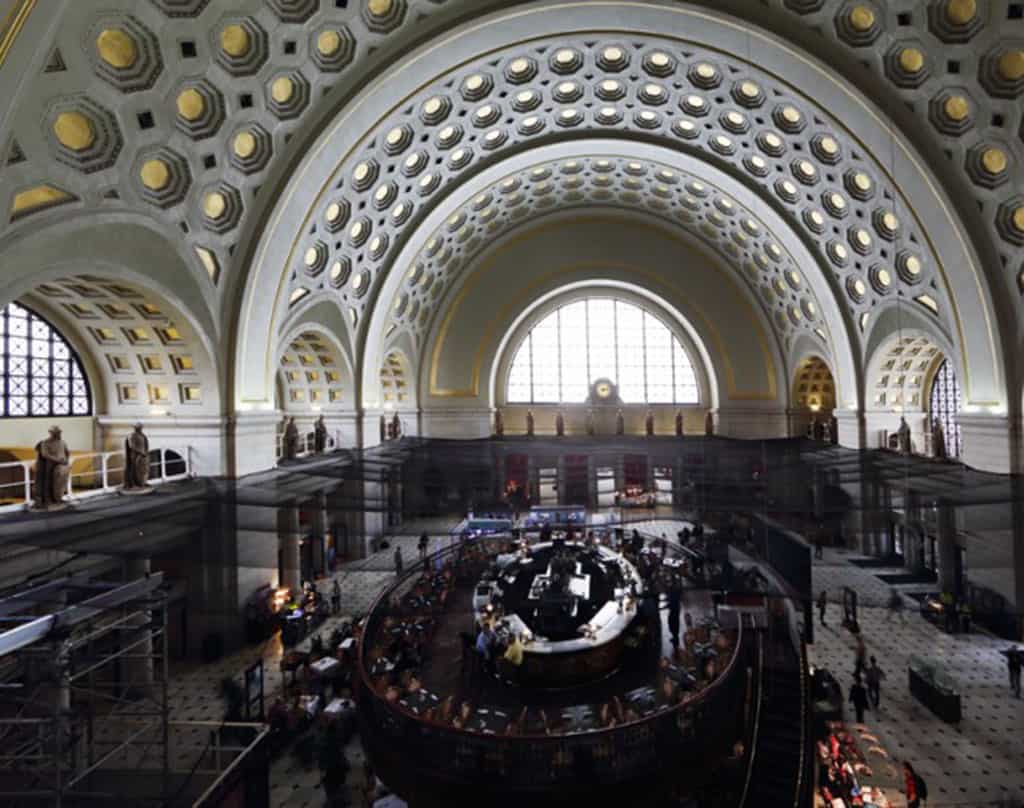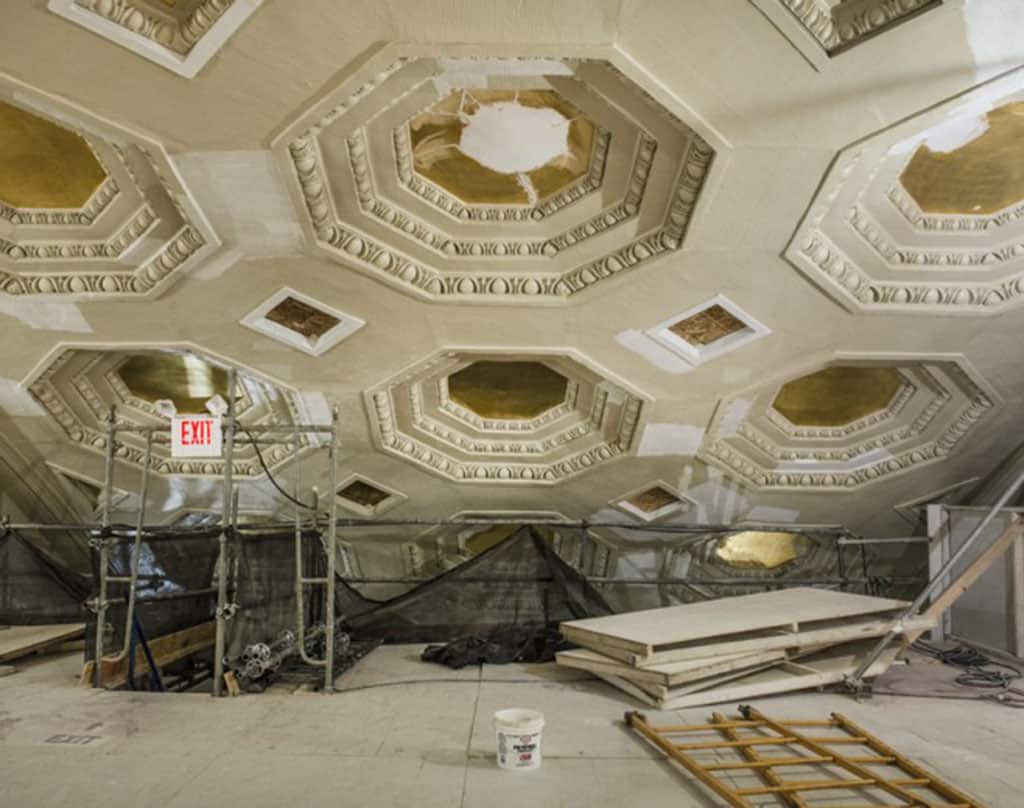 This project was a series of four libraries surrounding the Denver area and one of the first projects I worked on in my professional career. While it probably feels a bit dated now, I always perk up thinking about this project and the impact it had on the community. Libraries are so much more than a place to check-out books! It was so fun to design; we had tree houses, a coffee bar, music rooms, and so many unique spaces and functions. Coming right out of design school this project was a big reality check for me and really showed me the magnitude of Interior Design as a profession.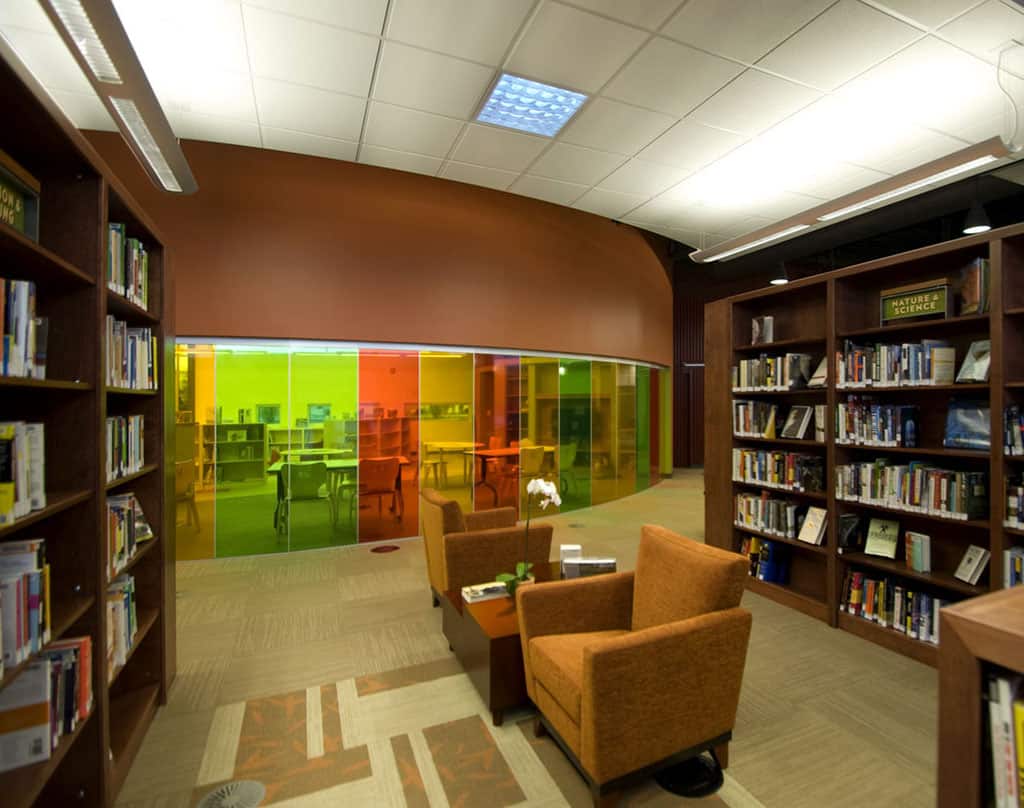 You're new to the team! What excites you about joining the Inside Stories Design team (vs working for other firms)?
I love the empowerment and autonomy that is given to each designer. The pace set for most projects is also very exciting to me.
What do you enjoy doing when you're not designing?
I love to cook and enjoy sharing meals with family and friends. I am always trying new restaurants and could sit on a patio or rooftop all day. The pandemic has greatly changed how I'm spending my time these days (not much traveling or attending live sporting events). But I am a water person (a native Coloradan that yearns for the ocean), so pretty much any activity that includes being by or on the water makes me happy. Most of all, I enjoy time spent with my husband and two young girls!