With Halloween and darker days right around the corner, we're currently enjoying all things dark, moody, mysterious, and atmospheric. Halloween decor is one thing, but we like when moodiness is more subtly incorporated into a space to create a long-term atmosphere of intrigue and drama.
We've rounded up five of our favorite dark and moody spaces (and pieces!) to help embrace the season….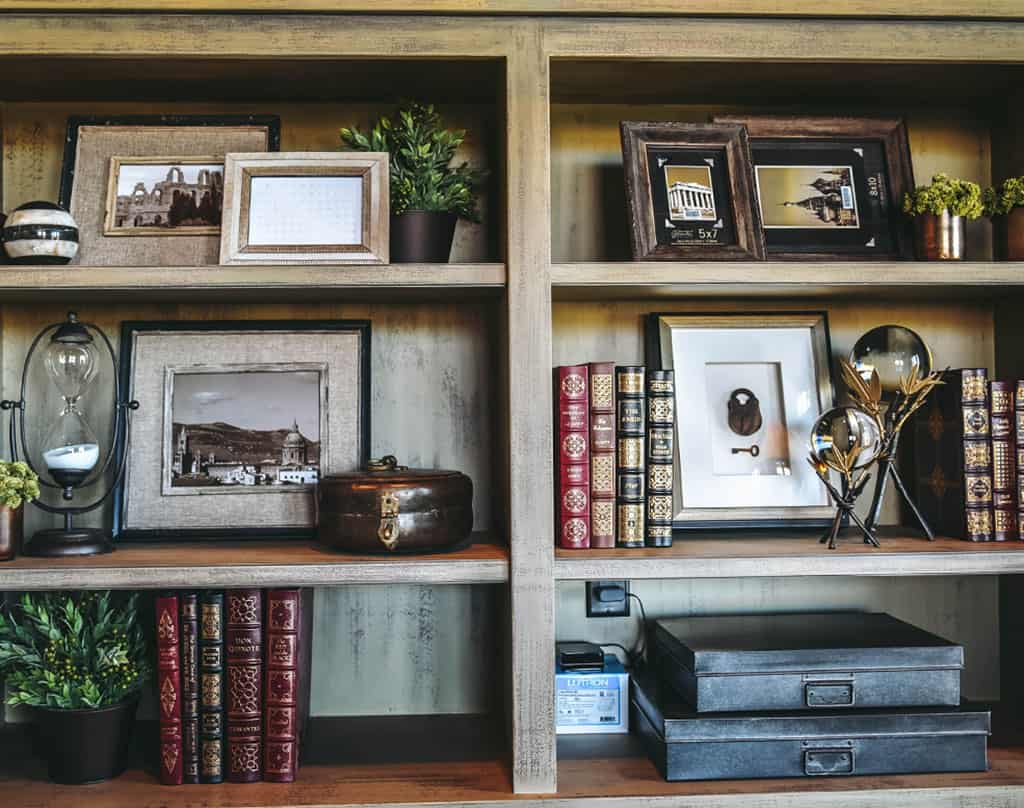 The PARADISO project study features intriguing curiosities

DARK & MOODY SPACES FROM OUR PROJECTS
1. FAIRFAX black powder room – This is definitely one of our moodiest powder rooms, as it features Petrouchka Charcoal flocked wallcovering from Kravet that envelops the room in a soft darkness. Paired with gold accents and candlestick-like wall sconces, it's modern with just the right hint of Gothic. Wallcovering is an easy way to add drama to any space, especially powder baths, which are really the jewelry box of the home and a space that can be more bold.
2. GLENCOE Entry Vestibule – Rich and vibrant Cowtan & Tout floral wallcovering, a dark painted ceiling, and a Navy Lacquer Pagoda Mirror from Mirror Image Home gives this entry a welcoming yet mysterious atmosphere that makes you want to immediately explore and discover the rest of the home. With wallcovering, there are so many options with varied texture, pattern, and coloring that can appeal to any style.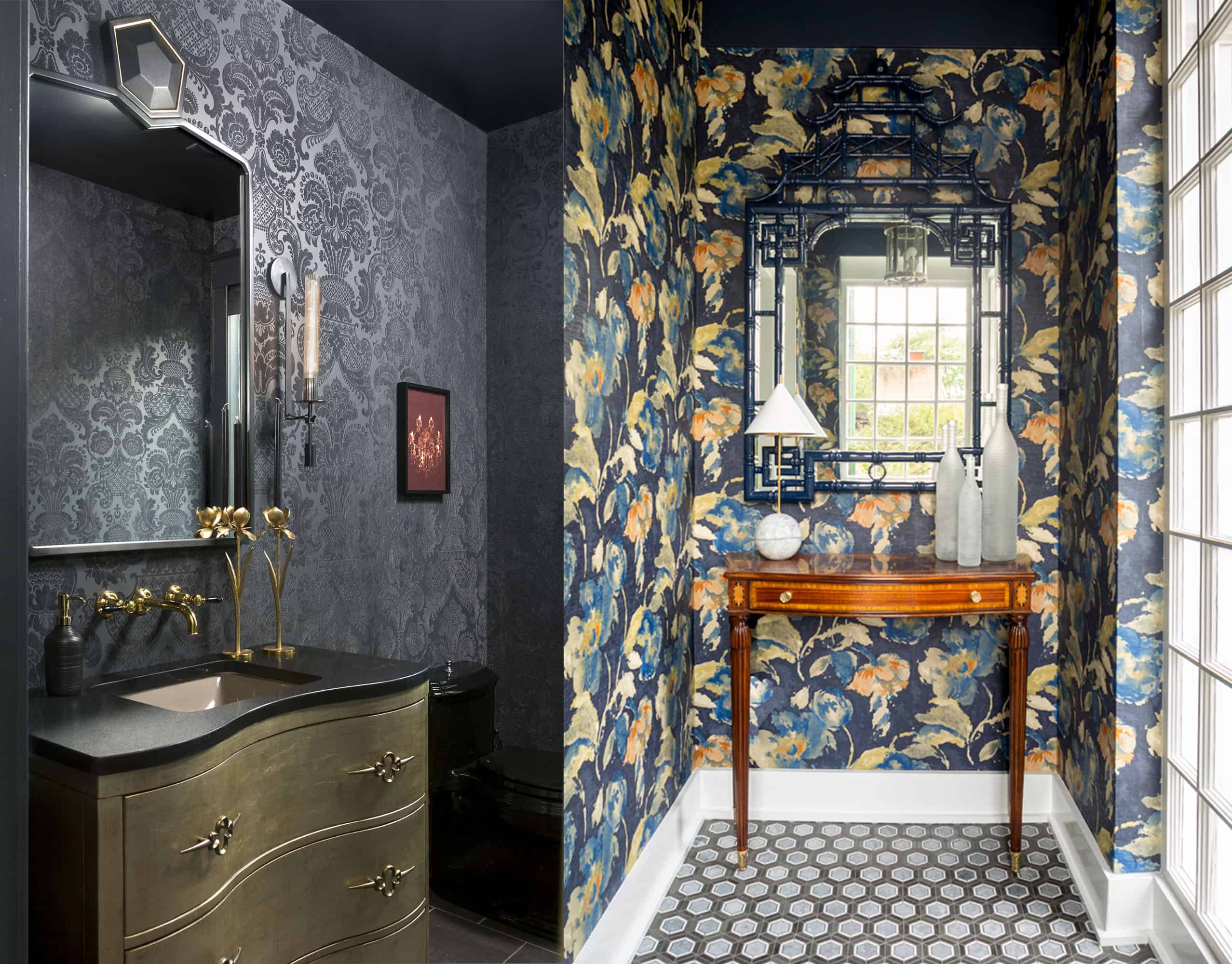 FAIRFAX Powder Room (1) & GLENCOE Entry (2)
3. HILLS Speakeasy – We transformed the HILLS basement into a home theater and Art-Deco Speakeasy inspired bar. The clients requested a "library of booze," so we worked with Renaissance Leather and Ackerman & Son's Furniture Workshop to create unique 'stacked luggage' built-ins. It has that perfect rich, dark Speakeasy feel.

4. HILLS Library – The use of brick and wood tones mixed with leather upholstery gives this space a great moody, old library vibe. It's just the kind of space where you want to pull an old tome from the shelf and spend the day pouring over its contents on the Bernhardt sofa.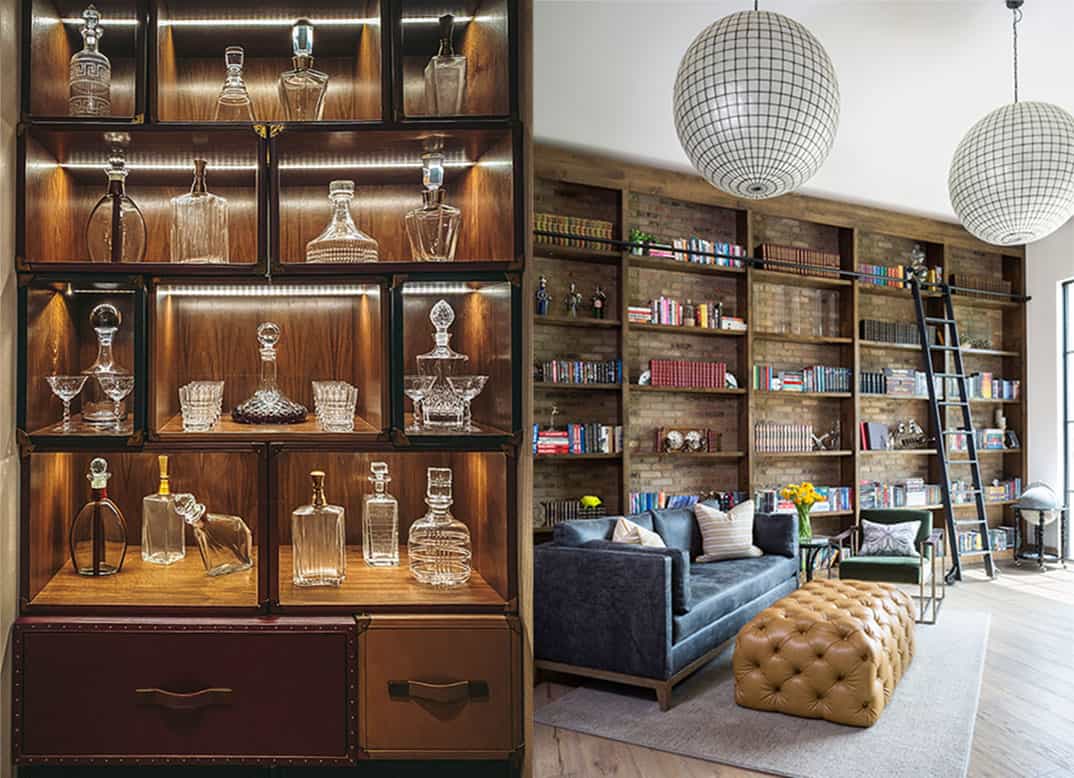 HILLS Speakeasy Bar Built-Ins (3) and Library (4)

5. PARADISO – This whole Italian farmhouse-inspired home has an air of mystery and a nice atmospheric quality to it. It has a hidden room in the wine cellar, a player piano tucked under a spiral staircase, an old-world study with rich leather pieces, and plenty of intriguing details and accessories, like glass orbs, magnifying glasses, skeleton keys, clocks, and hourglasses. It's truly one of the best homes to get lost in to discover every nook and cranny.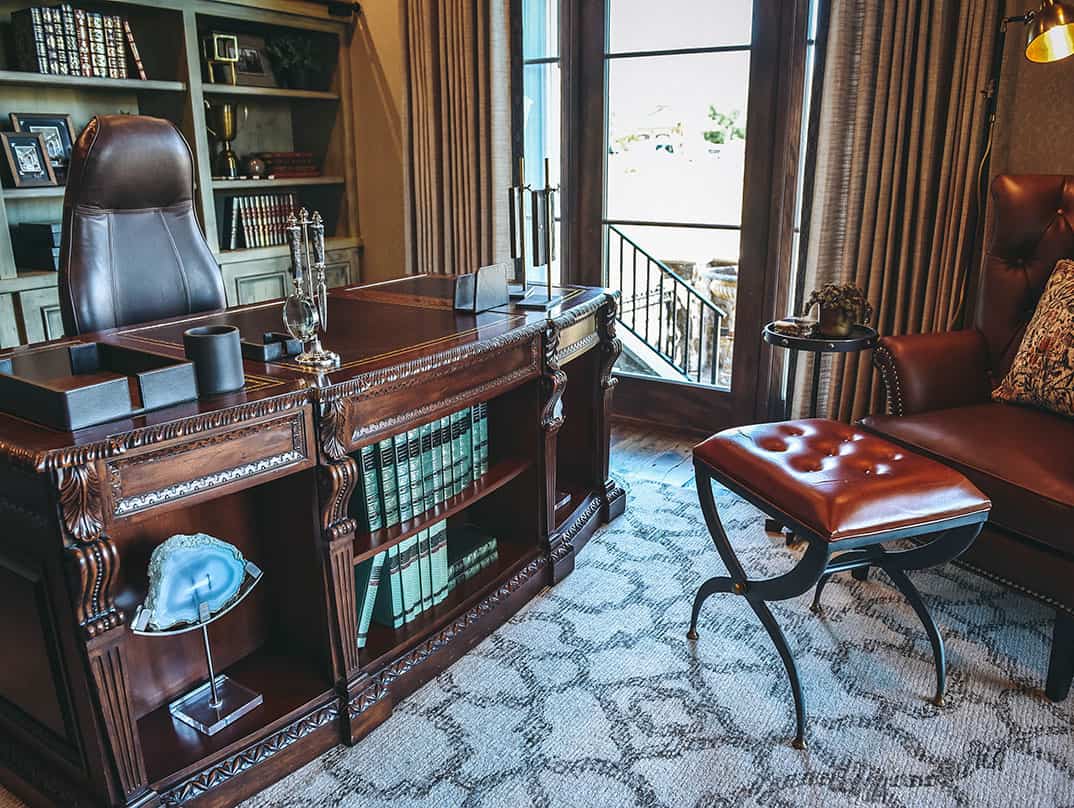 PARADISO old world study (5), featuring a luxe CR Laine leather armchair, spindly Sarreid ottoman, Jaunty Inc. area rug, and plenty of intriguing accessories.
DARK & MOODY PIECES
We're also constantly falling in love with furniture and accessories that have mysterious, intriguing qualities – they're the types of objects that spark curiosity and make you want to lean in and examine them more closely. Here are five of our recent favorites.

1. A piece that we've always loved for its moody and mysterious qualities is the charred pine Hono Stool by Uhuru. It's authentic and bold, and they use Shou Sugi Ban, an ancient Japanese burning technique, to hand char the wood and preserve it.
2. The slate and brass Bardot Chair by Gabriel Scott has a distinctly moody vibe. It combines black steel, brass hardware, and back cushions made from French pebbled leather. It has all the makings of a chair you want to run your hand over in awe.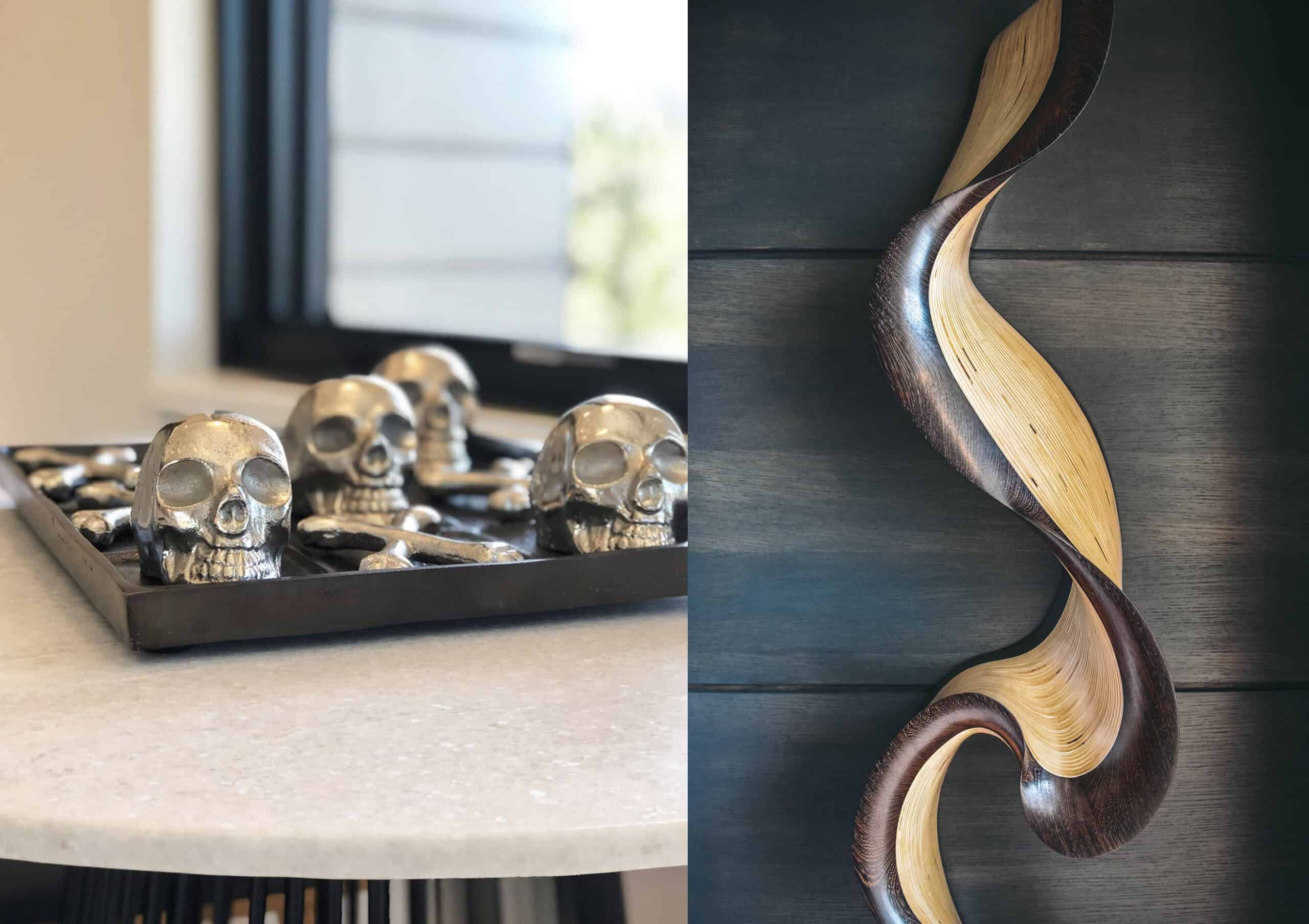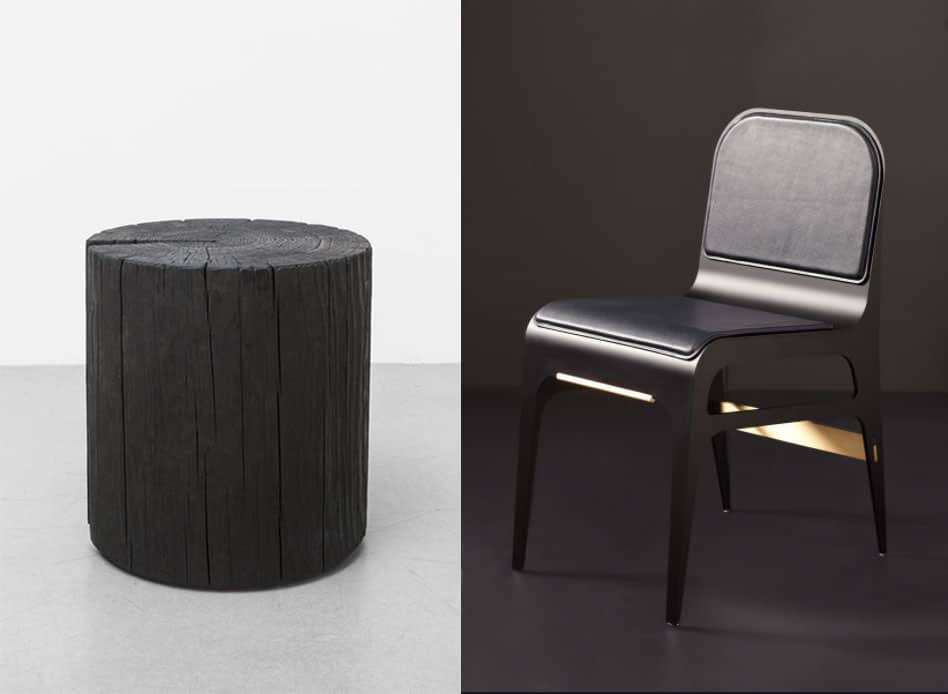 Hono Stool by Uhuru (1) and Bardot Chair by Gabriel Scott (2)

3. Our QUARTZ CREEK project features a fantastically morbid metal skull and crossbones tic-tac-toe set from Go Home Ltd. in the kids' lounge, and it's just such a fun, interactive, conversation-starting accessory (especially this time of year).

4. Also prominent in the front hallway of our QUARTZ CREEK project is a beautifully mesmerizing wood art sculpture by Vesper Sculpture & Design. This piece really sucks you in and has you staring in awe the moment you set eyes on it. Wood grain art like this has a marvelous hypnotic quality.


QUARTZ CREEK's Skull and Crossbones Tic-Tac-Toe from Go Home Ltd. (3) and wood sculpture from Vesper Sculpture & Design (4)

5. In the master bedroom of our PARADISO project, we tucked a small fall front writing desk by Theodore Alexander. Fall front desks naturally have an air of mystery because the desk can be hidden, but then you add a skeleton key and it really adds a whole other level of intrigue.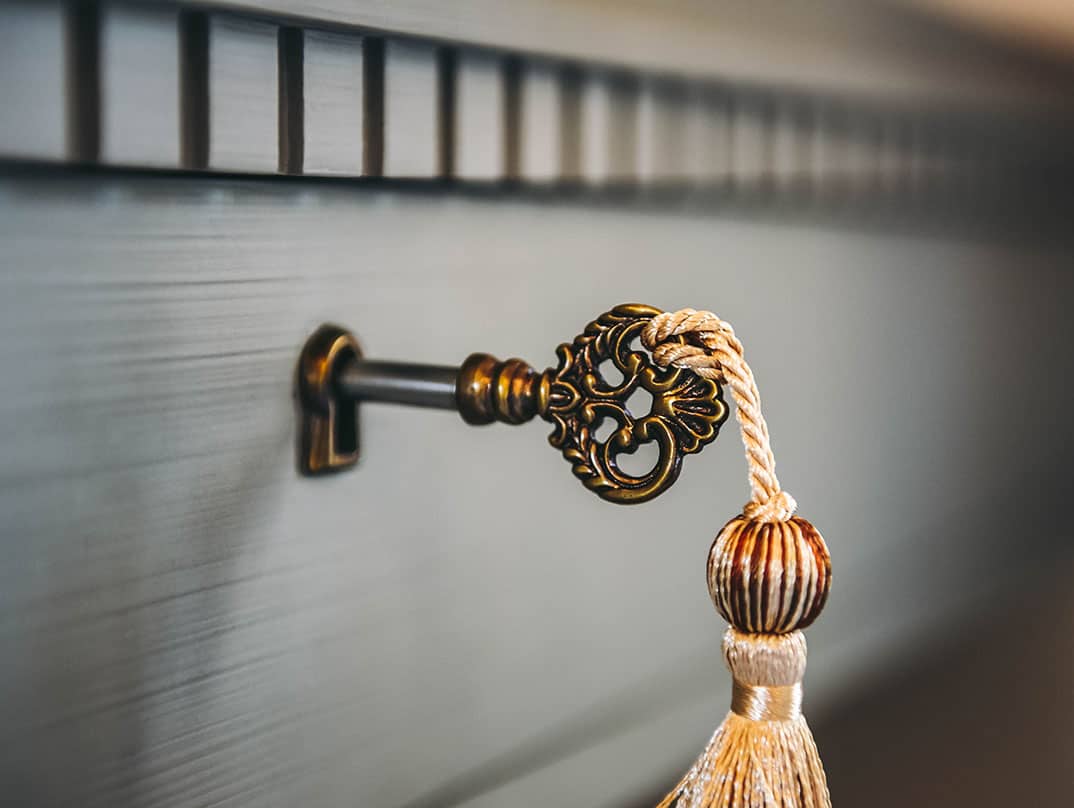 PARADISO project's Theodore Alexander Fall Front Writing Desk Key (5)
Photos contained within blog are not necessarily Duet Design Group projects.