In-Depth with Kate Rainwater, Project Manager for Duet Design Group
We recently sat down with Duet Design Group Project Manager Kate Rainwater to chat about her role, go-to inspirations, favorite design styles, and more. Read on for the full Q&A.
Why do you think you decided to become an interior designer and what motivated you to get additional credentials after graduating from college?
My interest in Interior Design started at a young age when I would sketch floor plans of my dream homes or arrange toy furniture for my dolls. In high school I shadowed a few interior designers and fell in love with the creative and challenging aspects of solving space planning problems and how designs could positively impact the spaces we inhabit. I went on to earn a B.S. in Design, with a Minor in Art History, and then worked for Harrison Browne Interior Design in Carbondale, Colorado where I was exposed to the high level of design that set the path for my career.

After two years I sat for the NCIDQ (National Council for Interior Design Qualification). The test challenges you in your understanding of health, safety, and public welfare, and it was a goal of mine to have those credentials in my profession. Since college I've also been a member of the ASID (the American Society of Interior Designers), which I think is an important organization for not only networking but professional credibility.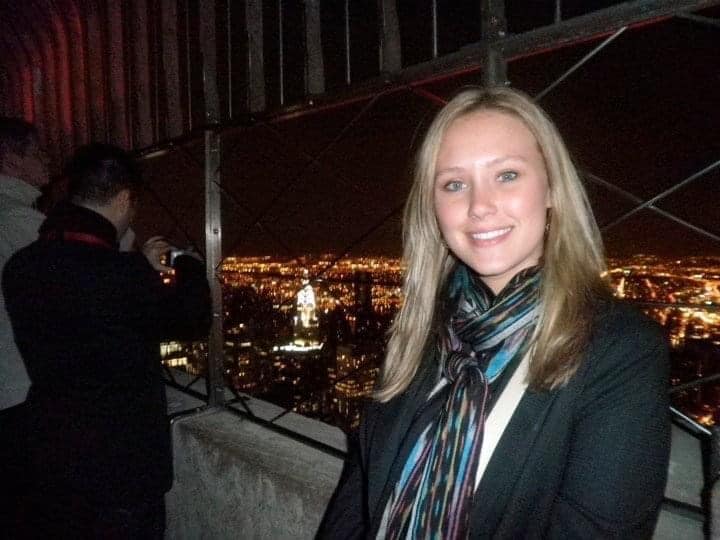 Kate in 2010, around the time she took the NCIDQ
What are some of your key design philosophies?
I love to design and assist in the design of spaces that are not only functional, but also inspirational – spaces that really enliven those within. Designing interior spaces should be a collaboration and reflection of the client's lifestyle and vision while incorporating innovative design ideas and techniques.
How would you describe your role as a Project Manager for Duet Design Group?
As a project manager, I'm responsible for managing and training Duet Design Group's Design Associates and leading them to accurately produce and meet deadlines throughout every project's design process. For each project, I also attend Programming Meetings, contribute to the Schematic Design, assist Devon and Miranda in the design process and execution, and help with contractor interactions through the bidding process and weekly site visits.
Working closely with Sasha Laurie in the Purchasing Department is also an important part of my role – we collaborate on expediting reports, trade installations, furniture inspection, final approvals, managing re-selects, and resolving any issues post-installation.
Last but not least, I also supervise and assist with resource library maintenance – very important for our design work!
Kate designing with Principal Devon Tobin and Design Associate Sydney McManness.
What would you say are some of your strengths as both a Project Manager and aN interior Designer?
My attention to detail. I tend to think about how things get made or the "how" behind getting design aspects executed. I'm also really skilled at listening to and understanding all design aspects in order to assist Devon and Miranda in communicating with clients and contractors. I also have a strong understanding of scale and am able to visualize spaces as we are designing and incorporating furnishings and finishes.
What are your personal favorite design styles?
Mid-century modern blending with a Studio McGee vibe. A former Duet Design Group Project, Oak Creek, really illustrates my ideal style.

Oak Creek Project Living Room
Where do you look for design inspiration? Are there any recent examples of things that have inspired your work?
I mainly look to Instagram (a few go-to feeds being Chairish, Domino, M. Elle Design, and Farrow & Ball) but also to design and fashion magazines, like Elle Décor, House Beautiful, and Dwell. I'm drawn to unique seating arrangements, fun use of colors or materials, built-in/cabinetry details, and "smalls"/accessory setups.
Inspirations from M. Elle Design and Farrow & Ball
Inspirations from Dwell Magazine and Domino Magazine
What's your favorite Duet Design Group project you've worked on and why?
There are so many! But if I had to pick, it would be the following three:
HILLS DRIVE Project

(Englewood, Colorado Residence) – I loved the clear vision of the client and their trust in us to design their home.
HILLS DRIVE Project Bedroom
GLENCOE Project

(Chicago, Illinois Residence) – This was an amazing opportunity to work with trades out of state and incorporate furniture from the

client's Colorado home

, which was also previously designed by Duet Design Group.
GLENCOE Project Living Room
PRIVATE RESIDENCE Project

(Cherry Hills Village, Colorado Residence) I really enjoyed the collaboration with the architect, builder, and client for this project. I also loved the mix of architectural details and furnishing style.
PRIVATE RESIDENCE Project Office
You work really closely with Devon and Miranda on all Duet Design Group Projects. What key lessons have you learned from them during your time at Duet?
There is just so much… it's hard to put into words! But the main things that come to mind are pushing myself when it comes to designing, getting out of a "comfort zone," and always trying to bring something new to the design table to elevate our designs.
What do you enjoy doing when you're not designing or project managing?
I enjoy hanging out with family and friends, outdoor activities (golfing, tennis, hiking, biking, boating), working out (zumba), reading, painting, and traveling.