Expert Tips: How to Design for Wine Lovers
Fall is here, which means just one thing for a lot of people – wine season! It's harvest time for vineyards, red wine is sounding extra appealing, and the holidays are right around the corner.
But how do you design the perfect spaces for wine lovers to store and enjoy their favorite beverage? The Duet Design Group and Inside Stories design teams share their approach on designing wine cellars and spaces to enjoy a glass (or two!)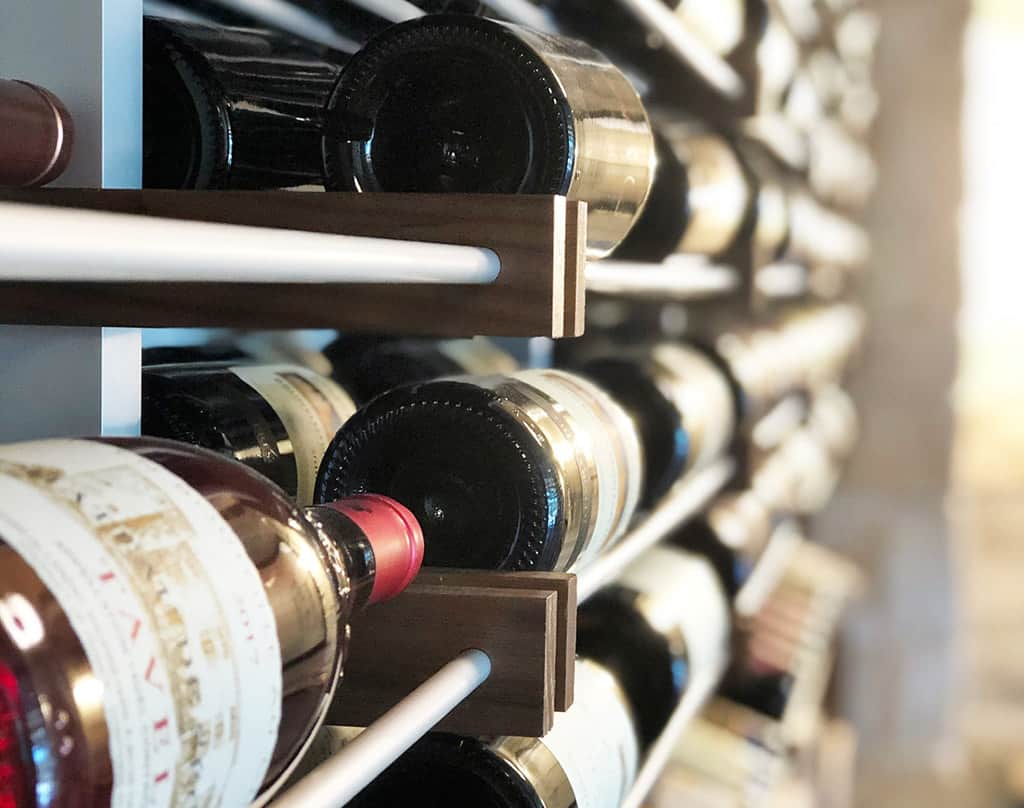 IMPORTANT CONSIDERATIONS
Storage
For wine bar storage, we like to make sure to include plenty of closed storage for bottle overflow and miscellaneous bar items that aren't as pretty to look at. Upper cabinets with glass fronts are needed to house white and red wine glasses, along with other stemware and liquor bottles. To break up the amount of cabinetry, we'll often introduce some open shelving for additional wine storage.
Prep Space
Counterspace is another huge consideration for a wine bar or entertaining area – there needs to be ample for any wine setup.  We always make sure there is enough prep space on the counter to comfortably open a bottle (or two!) with glasses around.
Temperature Control
When designing a space for wine storage – a full wine cellar or wine racks in a bar area – it's important to consider where the space is situated in conjunction with windows in the home. It's imperative to maintain the proper humidity and temperature for wine, so this has to be taken into account when designing a wine cellar, wine bar, or any space used to store wine.
A space also needs to be created for the temperature control systems. Sometimes it's easy to find a space for the cellar, but we also have to ensure we have the right kind of storage needed for the mechanics. This also applies to wine fridges and wine coolers – we need to build in the right amount of space to accommodate the specific fridge or cooler we and the clients have selected. A wine cooler is a necessity to make sure your wine is chilled to the correct temperature and ready to serve!
MAKE A STATEMENT
Some of our favorite wine cellar projects are spaces that make a statement. The "jewelry box" in our LINDEN AVENUE project is a perfect example – it's a true showstopper that gives the client the ability to showcase their extensive wine collection. Because it is located centrally in their home is surrounded by modern glass walls, they can enjoy the aesthetic every day.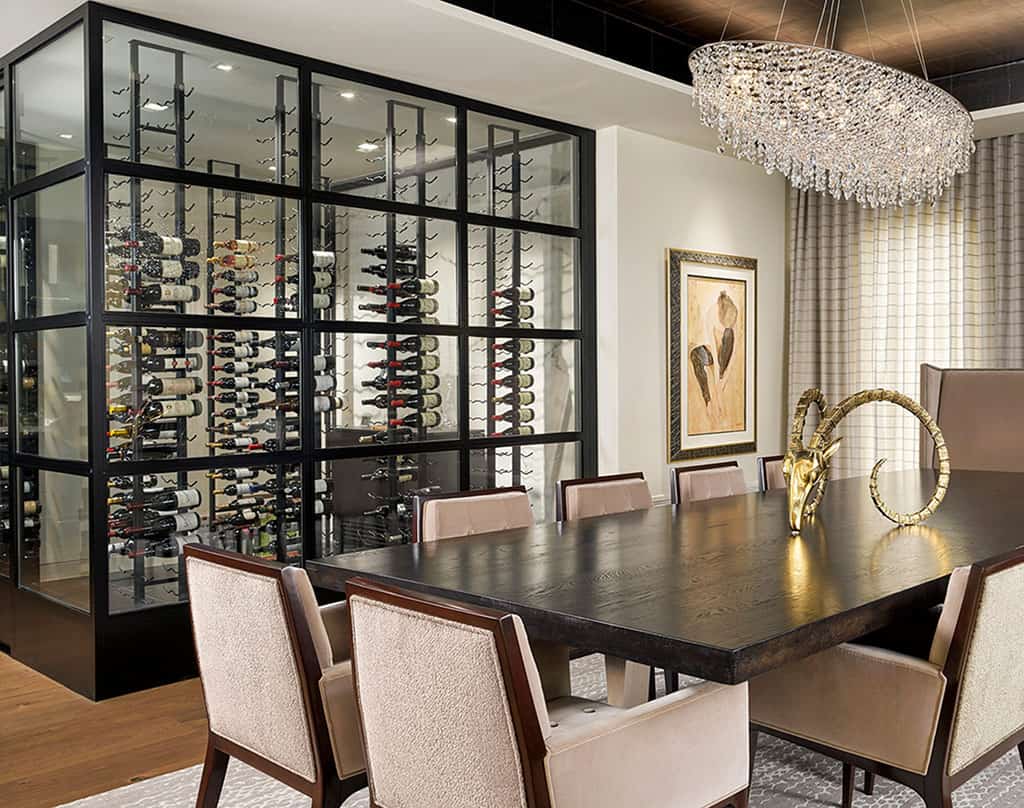 "Jewelry Box" wine cellar in our LINDEN AVENUE project
Our recent COLUMBINE COURT project will feature a wine cellar that greets you as soon as you come down the stairs from the main to lower level. We incorporated floor to ceiling glass French doors with very sleek, tall wine racks. The client's home's aesthetic is a beautiful mix of traditional and transitional, so we also added brick walls and trimmed the French doors in a thick dark wood to create that "cellar" feel. Additional shelving was also added to accommodate more wine cases as the aspiring wine enthusiasts expand their collection. This project is still in the works, so stay tuned for pictures!
Mixed materials and innovative lighting are yet additional fun ways to make a statement with a wine cellar. Another cellar from our recent QUARTZ CREEK project features both textured quartz stone and glass walls, creating a well-lit, modern space that still has elements of a more traditional cellar. Unique light fixtures also add extra personality and artistic flair.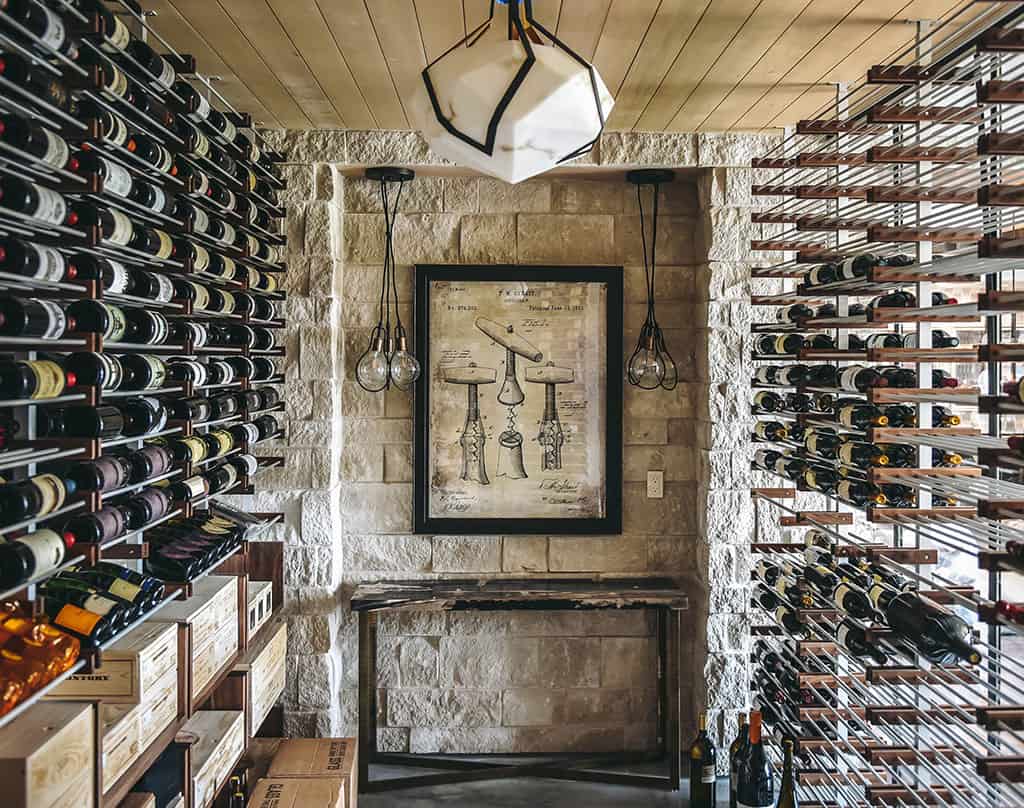 Wine cellar in our QUARTZ CREEK project
And of course we can't forget a beautiful space to enjoy the wine! The cocktail lounge and entertaining area in our Inside Stories CLIFFSIDE Project is an inviting example of a space designed to encourage conversation and connection over a glass of wine or a cocktail. This space connects the family room and kitchen, separating the zones while still connecting them for easy entertaining. The clients envisioned themselves entertaining a group of adults while kids were hanging out in the adjacent space, which meant we needed to provide adequate seating for everyone to perch or lounge. The jewel toned Four Hands swivel chairs make a statement with beautiful saturated color but also function to focus on the TV a big game is going on, or back around for conversations by the bar.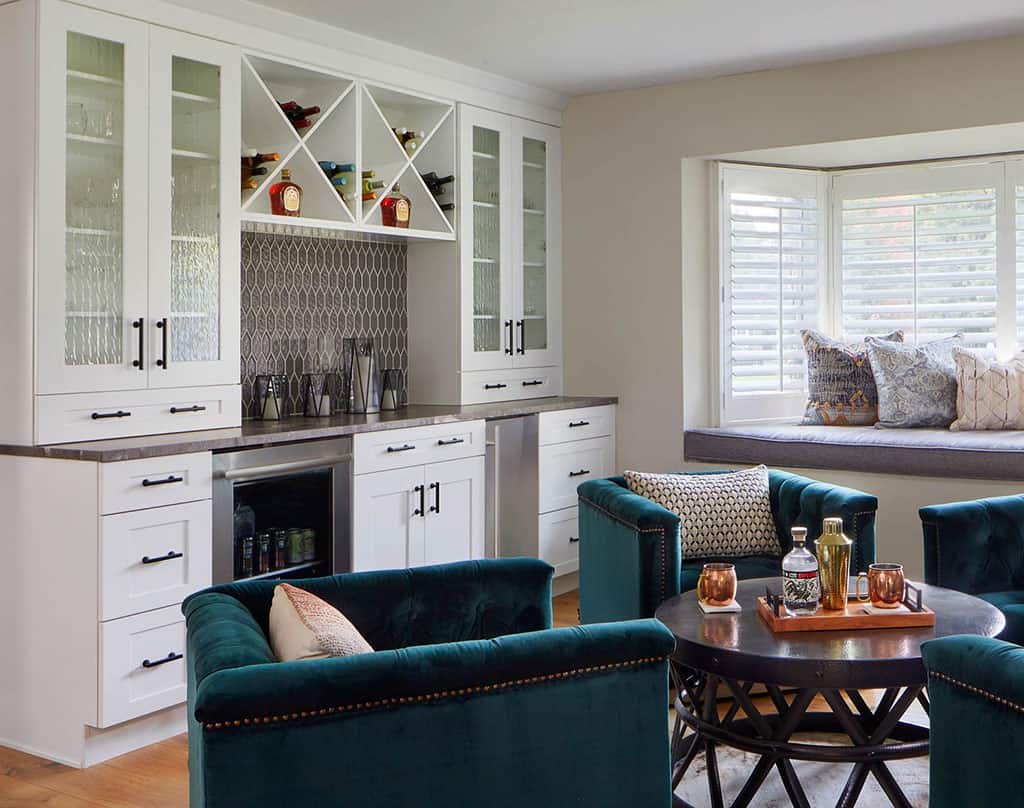 The cocktail lounge and entertaining area in our Inside Stories CLIFFSIDE Project
So, if you're considering a wine cellar or wine bar in your home, remember the importance of storage, preparation space, temperature control, and making a statement!
—————————————
Contributors:
Miranda Cullen, Co-Founder & Principal, Duet Design Group
Sydney McManness, Design Associate, Duet Design Group
Lauren Winter, Designer, Inside Stories by Duet Design Group